Online Courses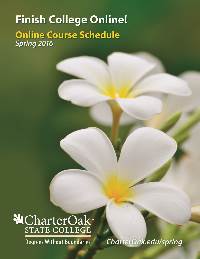 Looking to complete courses in the comfort of your own home or office? Charter Oak's online courses are the perfect solution! They are offered in 5-, 8- and 15-week formats, and are developed and taught by faculty who are experts in their fields.
For more information, please visit FAQs-Online Courses or How to Register.
To find and register for courses, use our Course Search.
Credit Courses
Charter Oak's credit courses offer a convenient way to complete your degree. When you become a degree-seeking student, credits earned with Charter Oak are added directly to your transcript - no need for transfer requests. Furthermore, course costs are very reasonable.
Certificate & Credential Programs
Certificate Programs, combining multiple courses in one subject area:

Credentialing is provided for Child Care Directors and workers:
Technical Requirements
Charter Oak's online courses require the use of a computer with an Internet connection. The Connecticut Distance Learning Consortium (CTDLC) supports Charter Oak's courses. Technical requirements and other help with Blackboard courses.
For additional assistance, contact the Registrar's Office at registrar@charteroak.edu, (860) 515-3702.