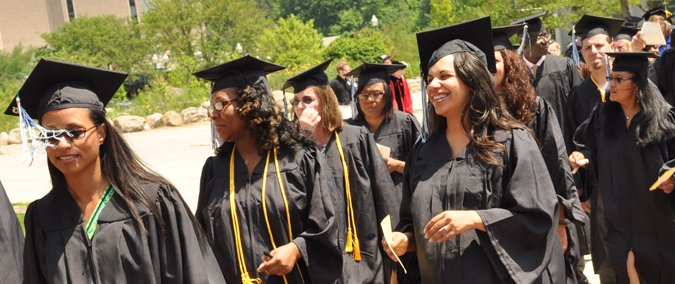 Alumni Association Membership
Alumni Association Membership is open to all individuals who have received a degree from the College. The Association's mission is to:
Provide professional and social opportunities for members
Support graduates in their further education and in their careers
Advance the reputation of the College
Support Charter Oak's educational services and goals
The Board of Directors of the Alumni Association meets approximately 5 times a year. Subcommittees are established to assist with scholarship review, social/network planning, event planning, nominating, etc. We are eager to involve our out-of-state alumni. Alumni may serve as ambassadors to the College in their work/social communities or attend corporate and college fairs, in communities close to their home. We also have sponsored receptions for prospective students/alumni in different geographic areas. We keep our alumni up to date on what's happening around the College. Please update your contact information with the College. Please contact Nancy Taylor, Assistant Director of Alumni Relations and Corporate Recruitment at nataylor@charteroak.edu or (860) 515-3863 to get involved.
Alumni Spotlights
Check out our special Alumni Spotlights on Lisa Vincent, Trudi Lebron, Dave Peterson, Jack DaLuz, Harry Chichester, Bruce Brown, Johnny Mason, John DeCarlo, David Matthews, Ruth Garby Torres and Matt Fleury.
Social Networking for Alumni
Follow Charter Oak State College on Facebook and @CharterOak on Twitter. On LinkedIn? Join our LinkedIn Alumni Group and add Charter Oak State College to your Education history.
2011 Alumni Citation Recipient - Ruth Garby Torres
Ruth Garby Torres was recently awarded the Charter Oak State College Alumni Citation, given annually to a graduate on the basis of accomplishment in a field of endeavor and loyalty to the College.
Accomplishment should be Ruth's middle name. The 2008 Charter Oak graduate earned her Master's degree in Public Administration from the prestigious Harvard Kennedy School last spring. The program, which is an intensive course of study designed for students who already have significant public service experience, was a perfect fit for Ruth, who served for 21 years with the Connecticut State Police. She was drawn to the Harvard Kennedy School, she said, because of its Harvard Project on American Indian Economic Development.
Ruth has been involved in tribal politics and activism since she was a high school student. "I was the youngest person from my tribe ever to serve as a tribal councilor," she said. "In fact, the 21 years I served as a law enforcement officer pale in comparison to the community service I've been doing as a Schaghticoke Indian since those high school days. I plan to use my MPA in continued service to and advocacy for Indian country, hopefully right here in the Northeast."
While earning her Master's, she also completed a program called "From Harvard Square to the Oval Office," designed for women who plan to run for public office. Ruth said she is always encouraging women in the law enforcement community to run for elected office after they retire. "It's a natural progression for a public servant who wants to give more to her community," she said. "And very much like the law enforcement profession, women are under-represented in state legislatures, Congress and executive government offices."
Ruth is now busier than ever. She is collaborating on a research project concerning Connecticut's Indian policy and spends one day a week in the Connecticut State Archives. She is also finishing a chapter about the Schaghticoke experience for an edited volume titled Sovereignty Struggles and Native Rights in the United States: State and the Federal Recognition, which will be released next year.
In addition, she was recently tapped to join the Connecticut Women's Hall of Fame Consulting Scholars Committee, and continues to serve on the advisory board for the Native American Cultural Center at Yale University.
If she had to choose one word to describe her experience as a Charter Oak student, it would be "wonderful" and promotes the College whenever she can. "Based on several conversations with friends and coworkers who went to either a four-year college immediately following high school or graduated after part-time studies at a traditional institution, I believe I received an education at COSC that was not just comparable (which I would have been very happy with) but was exceptional to their traditional academic experiences.
"Having the option to choose from any accredited college or university gave me the opportunity to sample from quite a few," said Ruth, who earned a BS in General Studies with a Political Science concentration from Charter Oak, and was given a Doris G. Cassiday Award at graduation. She was also a Sgt. George A. Dingwall Scholarship recipient for two years. "This created a sense of adventure and exploration during my studies and was an important contribution to a fulfilling and robust academic experience."
Ruth is such a cheerleader of Charter Oak that she says she should carry around green and white pom-poms, and is always inspired to talk about her experience to friends and coworkers who are looking to return to school. "And if anyone has any doubt about the value of a COSC degree in furtherance of educational goals, they should know that my COSC degree got me into a graduate program at an Ivy League institution!"