Welcome, BayCare Employee!
If you are an employee of BayCare Health System, you are eligible to receive 10% off our already competitive tuition rates. This offer includes all of our online programs of study from Associate, Bachelor's and Graduate degree programs, to professional certificates. No matter what your educational objective is, we can help!
Ask Us About the Following Programs of Study
Master of Science Organizational Effectiveness and Leadership
Bachelor of Science Health Information Management (CAHIIM Accredited)
Bachelor of Science Health Care Administration
Bachelor's Degree in General Studies - Health Studies concentration
Certificates in a variety of health care fields - Medical Coding, Health Information Management, Direct Care, Direct Care - Specialty Skills in Elder Care, Leadership in Health Care Administration
Contact Us
Admissions at 860-515-3701 or via email admissions@charteroak.edu
Ask for Moses!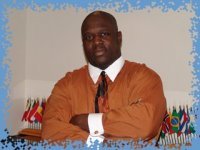 Moses Terrell Adgers, Admissions Counselor - Health Care specialist
Identify yourself as a BayCare employee, tell us your story, and we'll take it from there!