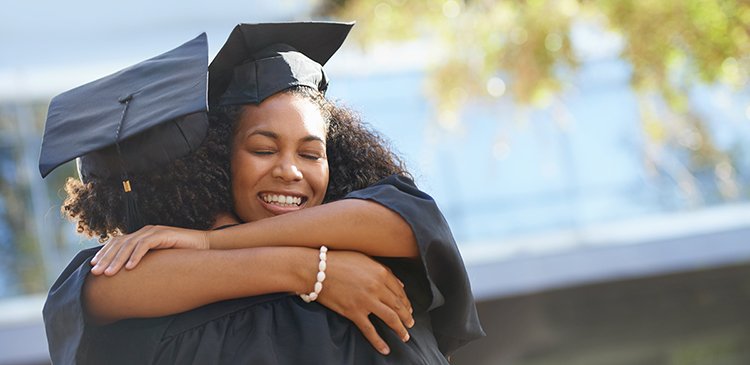 The 2020 Commencement Ceremony is Sunday, May 31st at 1:30 p.m.
Eligibility and Preparing for the 2020 Ceremony
The Class of 2020 includes students who graduated on December 31, 2019, and those who anticipate graduating on May 31, 2020 and August 31, 2020. The names of the Class of 2020 will appear in the commencement program.
We have three graduation dates each academic year (December 31, May 31 and August 31), with one commencement ceremony for all in late May or early June of each year.
Students who graduate on August 31st have their ceremony in the spring prior to their graduation date.
Students who have nine or fewer credits to complete may elect to participate in the ceremony. Students who have not completed all degree requirements cannot have honors noted in the commencement program.
All students participating in the 2020 Commencement ceremony must :
Submit a Graduation Application by February 28, 2020 with fee.
Submit a Commencement 2020 Form (accessible the second week in March after the graduation application is submitted )
After completing both the Graduation Application and Commencement Registrations forms, all graduates receive an email with Cap and Gown ordering instructions in March.
Invitations to the Commencement Ceremony and Breakfast will be emailed in April 2020.
Reservations for the complimentary pre-ceremony breakfast are made online and due by Sunday, May 17, 2020.
---
Caps, Gowns, Tassels, and Cords
The deadline for placing cap, gown, and tassel orders is May 14, 2020.
Students receiving an undergraduate degree must have a black cap, black gown, and commemorative 2020 green and white tassel in order to participate in the ceremony.
Purchasing an undergraduate cap, gown, and tassel package costs $50.
Students may wear their own black cap and gown and have one free tassel provided courtesy of the Student Association. Please request this tassel via email at tassels@charteroak.edu. Additional tassels may be purchased online for $7 each.
Students receiving a master's degree must purchase a cap, gown, hood, and tassel package in order to participate in the ceremony.
Purchasing a graduate cap, gown, hood, and tassel package costs $75.
Regalia ordering information is emailed within a week after the Graduation and Commencement Forms have been submitted. Graduation and Commencement Forms will be available to submit the first week in March.
Caps and gowns purchased by students are mailed directly to students from our vendor. Students must bring them to the ceremony.
Wearing the Cap and Tassel
The cap should be placed squarely on the top of the head (not the back) with the tassel placed to the right side of the cap.
Cords of Distinction
Graduating honors students who participate in the ceremony and have completed their degree requirements will receive a gold honors cord before the ceremony in the Student Center. These are distributed with the name cards.
Graduating students who serve (served) in the military will receive a military cord before the ceremony in the Student Center.
---
Guests of the Graduates
Graduating students can invite up to five (5) guests. Seating is first-come, first-served, open general admission. Specific or consecutive seats cannot be guaranteed.
Please enter the Welte Hall auditorium through the front doors. The doors open at 12:00 p.m. All bags are subject to search. Balloons, horns, and noise makers are not allowed in the auditorium.
Before the processional, graduating students may wish to give personal items, such as a purses or jackets, to their guests to hold during the ceremony.
Tickets are not required for guests.
---
Accessibility
If graduating students or guests require special seating arrangements or are hearing impaired, please contact Sarah Ellis at (860) 515-3846 or via email at scellis@charteroak.edu to make special arrangements by Friday, May 1, 2020. The ceremony will be translated on-site by American Sign Language interpreters. The webcast of our ceremony will have closed captioning.
---
Location, Getting There, and Parking
The ceremony and related events are held on the nearby campus of Central Connecticut State University (CCSU) in New Britain, CT. The ceremony will be held in the Welte Hall auditorium. The breakfast, reception, and gathering for the processional will be at the Student Center. Directions and a map will be emailed to graduating students with the graduation invitation.
Parking is available in the Welte Hall Lot, the Welte Garage (handicap parking is available here), Student Center Lot, and the Student Center Garage (Map with Parking Locations). Parking is free and access cards are not needed to park in these locations on commencement day.
Hotel Recommendation
We suggest the Courtyard by Marriott in Farmington, CT. For reservations call 1-800-521-7100.
Note: There is no bus service from the Marriott to CCSU on Sundays but taxi service is available.
Transportation from Bradley Airport
For information on taxi service from Bradley Airport, call (860) 627-3128 or (860) 627-3588. The cost is approximately $60.
Taxi service is also available from ground transportation service coordinators located at counters on the lower level curbside of Terminal A and next to baggage reclaim area two in Terminal B. Taxis are normally available 7 a.m. to midnight. Outside of these hours, taxis can be called from airport phones or hailed from the curb outside baggage reclaim.
---
Attending Remotely and Live Streaming Webcast
Graduating students who are unable to attend the ceremony but still wish to participate by having their names announced during the ceremony must make a request by May 3, 2020, by emailing commencement@charteroak.edu. Please do this after receiving the commencement invitation in April 2020.
Graduating students, family members, and friends who cannot attend in person can view the ceremony via the live webcast available at www.charteroak.edu at approximately 1 p.m. Eastern Daylight Time (1/2 hour before the start of the ceremony).
The webcast of the commencement ceremony will have closed captioning.
Video of the ceremony will be posted on Charter Oak State College's website in the weeks following the ceremony.
---
Commencement Day Timeline of Events
10:30 a.m.

11:00 a.m.



Private Awards Ceremony, by invitation | Alumni Hall, CCSU Student Center

Pre-Graduation Reception | Alumni Hall, CCSU Student Center

Complimentary breakfast with Meet & Greet opportunity for Graduates and their family (maximum of five guests). Registration required.

12:15 p.m.

Check-In | Alumni Hall, CCSU Student Center

Graduating students arrive at the Student Center to pick up name cards; guests exit to Welte Hall auditorium.

1:15 p.m.

Processional begins!

Graduating students walk in a processional from the Student Center to the Welte Hall auditorium.

1:30 p.m.

Ceremony begins (usually 1.5 to 2 hours long)

.
Photographs, Announcements, and other Commemorative Items
Island Photography will take individual photographs of each graduate as they cross the stage. The proof will be e-mailed within five to seven days following the ceremony. Register to receive a direct link to the photos (friends and family may also register to receive a direct link to the photos). Images will be posted within 72 hours of the ceremony. All inquiries should be made to Island Photography at (800) 869-0908.
NOTE: Photos may be used by the College for general promotion purposes including, but not limited to, inclusion on the College's website, newsletters, collateral and social networking sites.
Graduation announcements can be purchased from Jostens.
We have many gift items & branded merchandise available in our online store, including diploma frames. Flowers will also be available for purchase at the event.
Please note that the facility does not allow balloons, horns, or other noise makers inside the auditorium. They can be left in the lobby storage for safe keeping until the ceremony ends. All bags are subject to search when entering Welte auditorium.
---
Pre-Ceremony Reception
A complimentary pre-graduation breakfast for all Graduates and their guests (maximum of 5) begins at 11:00 a.m. and provides an opportunity to Meet & Greet with Advisors, Staff, Faculty, and other Graduates. A variety of breakfast foods and beverages will be served.
Please note online registration is required for this complimentary breakfast by May 17, 2020.
Senior Legacy Tribute Ads
The graduating class, family, and friends will have an opportunity to place a tribute in the commencement program for a minimum contribution of $20.20. A tribute ad is a way to say "Congratulations" to the graduate, and "Thanks!" to Charter Oak State College. Donations support the Senior Legacy Fund, and scholarship opportunities. Information can be found by visiting Senior Legacy.
Tribute ads are due by Sunday, May 3, 2020.
---
Diplomas
Diplomas will be sent to the graduate's mailing address of record approximately six to eight weeks following the date of the degree conferral. May 31, 2020, graduates should receive their diplomas by the end of July; August 31, 2020, graduates should receive their diplomas by the end of October. Please be sure to notify the Registrar's Office if you have had a change of address.