If you are an employee of the American Red Cross Blood Services division, you may have already earned up to 27 college credits for the Collections Staff Training Program or up to 31 college credits for the Product Manufacturing Training Program!
This means you may have already completed a big part of the credit requirements for an Associate or Bachelor's degree — about a year's worth of full-time college. It's a head start that can save you time and money in completing your degree.
Even if you don't have this training, you may be able to get college credit for military training or EMT, RN, LPN, or phlebotomy credentials, just to name a few.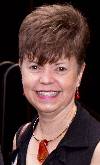 Ask for Nancy!
Nancy A. Taylor, MA, MPA
Assistant Director, Corporate Outreach
Call 860-515-3863 or email nataylor@charteroak.edu
Identify yourself as a Red Cross employee, tell us your story, and we'll take it from there!
Why Charter Oak State College?
With our online degree programs, there is no need to travel to a campus after work or on the weekends. We're accessible to you wherever, whenever. We have degree programs in some of the most in-demand fields.
Charter Oak State College specializes in meeting the needs of working adults who want to complete their degree with convenient, flexible and affordable degree programs.
Request Information About Our Degree Programs
In order to help serve Red Cross employees better, please let us know you work for the Red Cross. You can do this by telling our staff when you call or by identifying your employer as American Red Cross on the application. It is listed in the drop-down menu on the employer section. Thank you.