Charter Oak State College
Official Catalog 2023-2024
A Public Online College in the Connecticut State System of Higher Education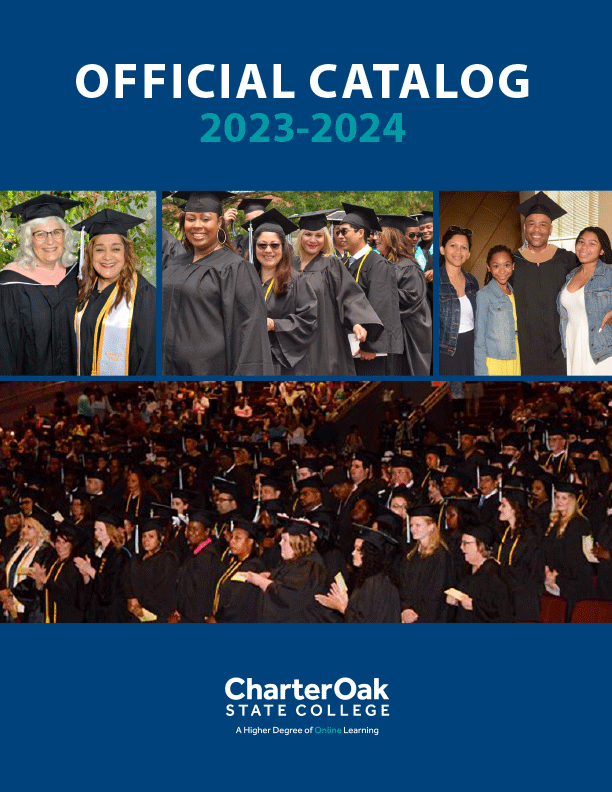 Charter Oak State College
Official Catalog 2023-2024
Letter from the President
July 2023
Welcome to Charter Oak State College.
We're glad you chose us. At Charter Oak our students come from all walks of life and represent many critical areas of the workforce from social work to early childhood education, from public safety to nursing and health informatics, from business and leadership to early childhood education and more. Our students are parents, young professionals, veterans, homeowners, and taxpayers. The roles you play at home and work are important, and we recognize you have many responsibilities to juggle as you seek a credential and career advancement.
We are here to support you on your journey. Our "Students First" philosophy places you at the center of our community. At Charter Oak you will engage with stimulating instructors and experienced advisors ready to guide you through the degree plan of your choosing. You will be part of a diverse student body and have the flexibility to earn credit through testing or prior learning. Additionally, a myriad of student services are offered that can be accessed within this Catalog, plus the Student section of our website outlines those options.
Everyone belongs at Charter Oak. We are committed to your success and I look forward to congratulating you on Graduation Day.
Ed Klonoski
President
---
Accreditation
Charter Oak State College is Connecticut's distance learning degree program under the governance of the Connecticut Board of Regents for Higher Education. It is accredited by the Connecticut Board of Governors for Higher Education and the New England Commission of Higher Education (NECHE).
About This Catalog