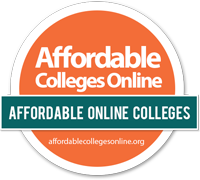 Charter Oak State College, Connecticut's public online college, was recently ranked number one in affordability among online degree programs in-state by AffordableCollegesOnline.org (AC Online).
Ed Klonoski, President, Charter Oak State College said, "We believe learning is about the activity, not the location. As Connecticut's only public online college we feel that access, affordability, individual support and value are the hallmarks of what make Charter Oak a premier institution of higher learning. For us, online delivery is the core around which we serve our students. Our student's success is what drives us to provide the very best possible accredited programs for working adults who are seeking a way to complete their degrees quickly and efficiently."
AC Online recently analyzed online degree programs from more than 2,000 accredited colleges and universities across the nation. According to Dan Schuessler, Founder & CEO, Affordable Colleges Online, "Charter Oak State College offers an exceptional collection of distance learning options at a very affordable price. This combination of quality, affordability, and flexibility earned Charter Oak State College a place on our list of the Online Colleges in Connecticut That Win on Affordability."