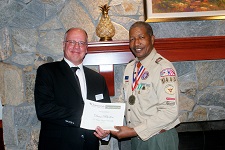 The Charter Oak State College Foundation is dedicated to providing financial assistance to our adult college students through the awarding of scholarships and grants.
Endowed Scholarship Funds have been established with the generous support of family, friends, and fans of COSC; the endowment of funds creates a lasting legacy. Below is a list of scholarships and grants sponsored by the Foundation along with links to the specific criteria.
Due August 2nd!: Alumni Association Master of Science Degree Scholarship Application is now available for incoming and current COSC Graduate Degree Students. The application due date is Friday, August 2, 2019 with awarding for the start of the Fall semester.

Coming Soon: The list of scholarships for Fall of 2019 will soon be posted on your Acorn Student Portal. Foundation Scholarships are awarded to current Charter Oak students based on select criteria for each scholarship listed below.
Applications and requirements will be posted in the Acorn Student Portal and also sent via email by August 25th, 2019.
Below is the list with criteria of endowed scholarships.
Endowed Scholarship Funds Include:

Open to new and current/enrolled Graduate students
Open to New Undergraduate Students
Grants and other Scholarship Funds
Endowments provide for the future of the College, its students, and faculty and is a lasting gift for generations. Donations to Endowed Funds are restricted and subject to requirements that maintain the principle in investments to create a source of income for future generations.
An endowed named gift may be established with a minimum of $10,000. The endowed gift may be made in payments over a designated number of years.
Donations may be allocated to a specific Endowed Fund or where most needed. Please visit online donations to contribute to future generations!
For further information, please contact Carol Hall, Executive Director of the Charter Oak State College Foundation at foundation@charteroak.edu or call 860.515.3889.