Charter Oak State College Foundation Events
Spring 2021 Fundraiser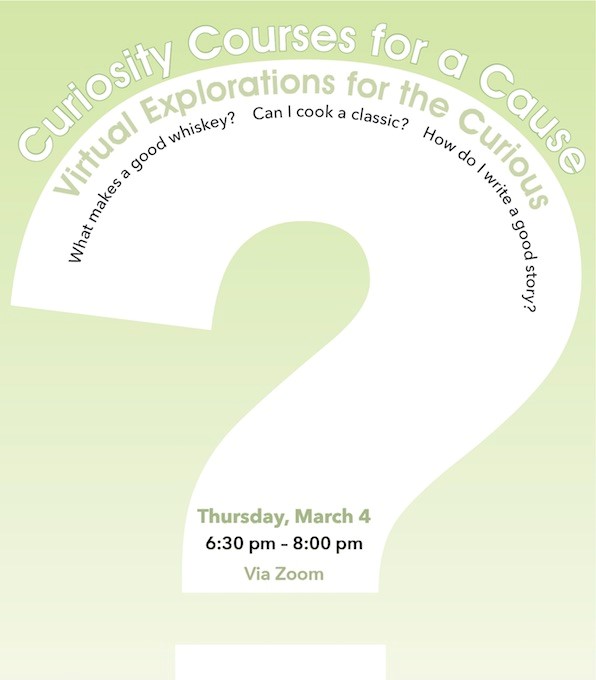 COSC Foundation invited Guests
to indulge their curiosity, for a cause!
Thursday, March 4, 2021, from 6:30 pm - 8:00 pm (eastern)
Live Virtual Experiences designed for YOU!
Indulge Your Palate - Master Your Kitchen - Tell Your Story!
All while Helping to Raise Life-Changing Funds!
Support Degree Completion of Charter Oak Students
A college degree improves career opportunity and can be used
to close the gender and minority wage gap, as well as reduce the poverty rate.
Many Thanks to our Guest Lecturers!





Our friend Jacob Studenroth from The Wise Old Dog, West Hartford, CT, will take us on a rather wonderful
whiskey-tasting journey.

We will explore the basics and the finer points of tasting whiskey critically, the endless factors that impact flavor, tradition, the technical nerdy stuff, and why it's all just so delicious.

All whiskey and mixers are included in the ticket price and available for pick-up or delivery (details will be emailed upon registration).

All you'll need is a little bit of time on March 4th, an empty glass, an open mind, your thirst...oh, and one fresh orange (for garnish!).

We can't wait to host you!

Cheers!

Chris Prosperi, Chef-Owner of
Metro Bis, Simsbury, CT,
will lead you on a
culinary adventure in
Your own Kitchen!

Enjoy this follow-along cooking experience with recipes and ingredient list provided in advance.

Learn these culinary classics:

Whiskey Glazed Chicken Chunks with boozy blue cheese sauce

Clams Casino Pasta

Spring Pea Mash

Don't forget your fork!

Bon appétit!

Professor David Lihn, COSC Adjunct Faculty, will entertain as he imparts the potent power of language and creative storytelling.

For a quick hour together we will explore the craft of storytelling (a performance art!)—and discover how to burnish that skill to inform, motivate, entertain, regale, empathize, and create laughter. To articulate!

How do we enrich our conversation? How do we write a good story and tell a worthy tale?

How do we bring humor into the room, kindness into the conversation, laughter into the discussion, geniality in team building, and harmony in negotiations?

Explore, Discover, and Enrich
Let's get creative!
Employer Appreciation!

Nominate YOUR Boss or Employer for the 2020 Golden Acorn Employer of the Year Award [here] by Feb. 17, 2021.
Dear Charter Oak Alumni & Students!
Would you agree that YOUR Employer along with Charter Oak State College has helped you improve your career, achieve your goals, and better YOUR life?
If yes, show your appreciation and nominate your boss for the prestigious 2020 Golden Acorn Employer of the Year award.
Simply submit a short essay (250 words or less) expressing your appreciation for any support, guidance, or advancement opportunities you received during your degree completion journey.
Use the link (http://bit.ly/2020GoldenAcornAward) or simply email your essay along with your contact information to Foundation@CharterOak.edu by Sunday, February 17, 2021.
All bosses entered will receive recognition, and one will be awarded the 2020 Golden Acorn of the Year Award (in 2021).
The in-person Bring Your Boss to Breakfast/Employer Appreciation event was canceled (last year) due to the pandemic however, our show of appreciation does not have to be canceled!
Fall 2020 - Shea Lecture Series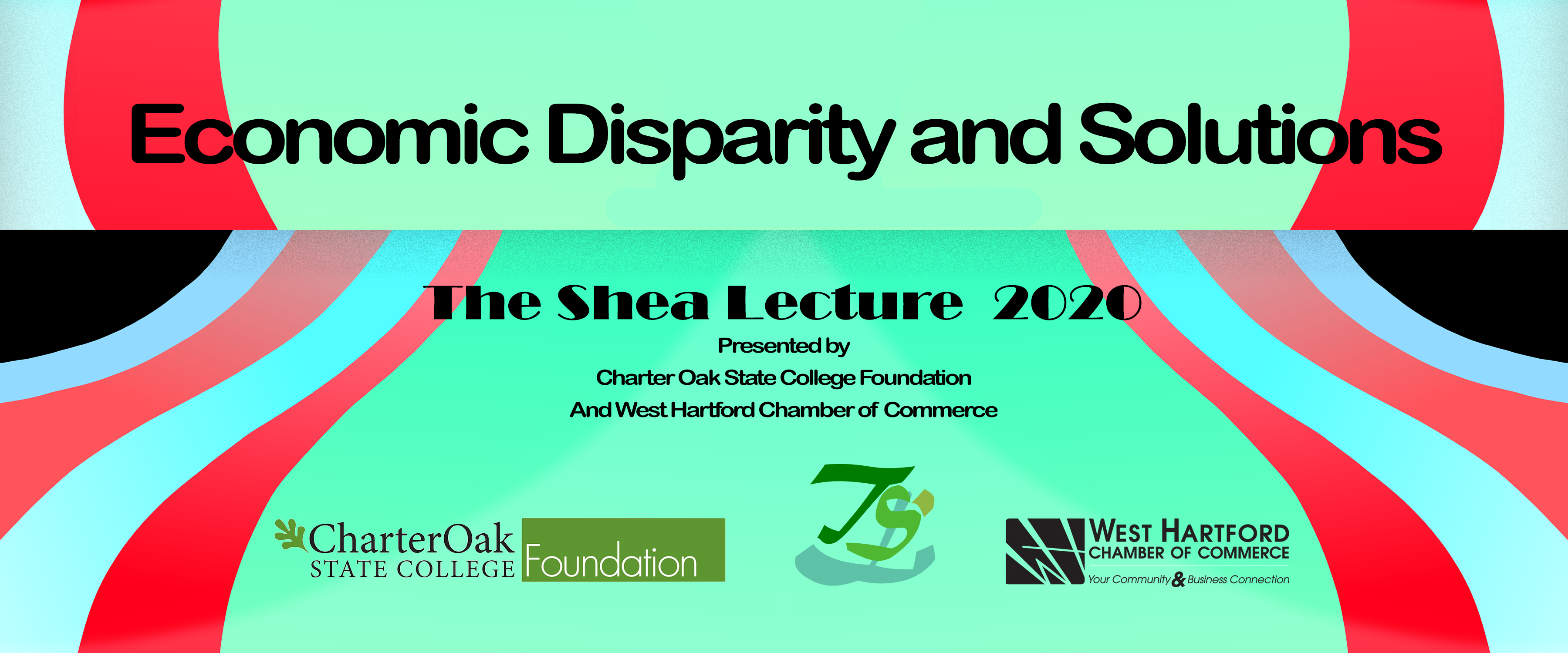 The 2020 Shea Lecture series consisted of an engaging three-part live virtual panel discussions on the topic of economic disparity within our state and country, the origins, barriers, limitations, and solutions.
Subject matter experts provided insights on economic disparity, housing inequity, higher education, career / workforce planning, health care, food insecurity as well as societal impact.
To learn about economic disparity and view the video recordings [click here].
Meet the Panelists
Meet our Panel from the September 2020 Discussion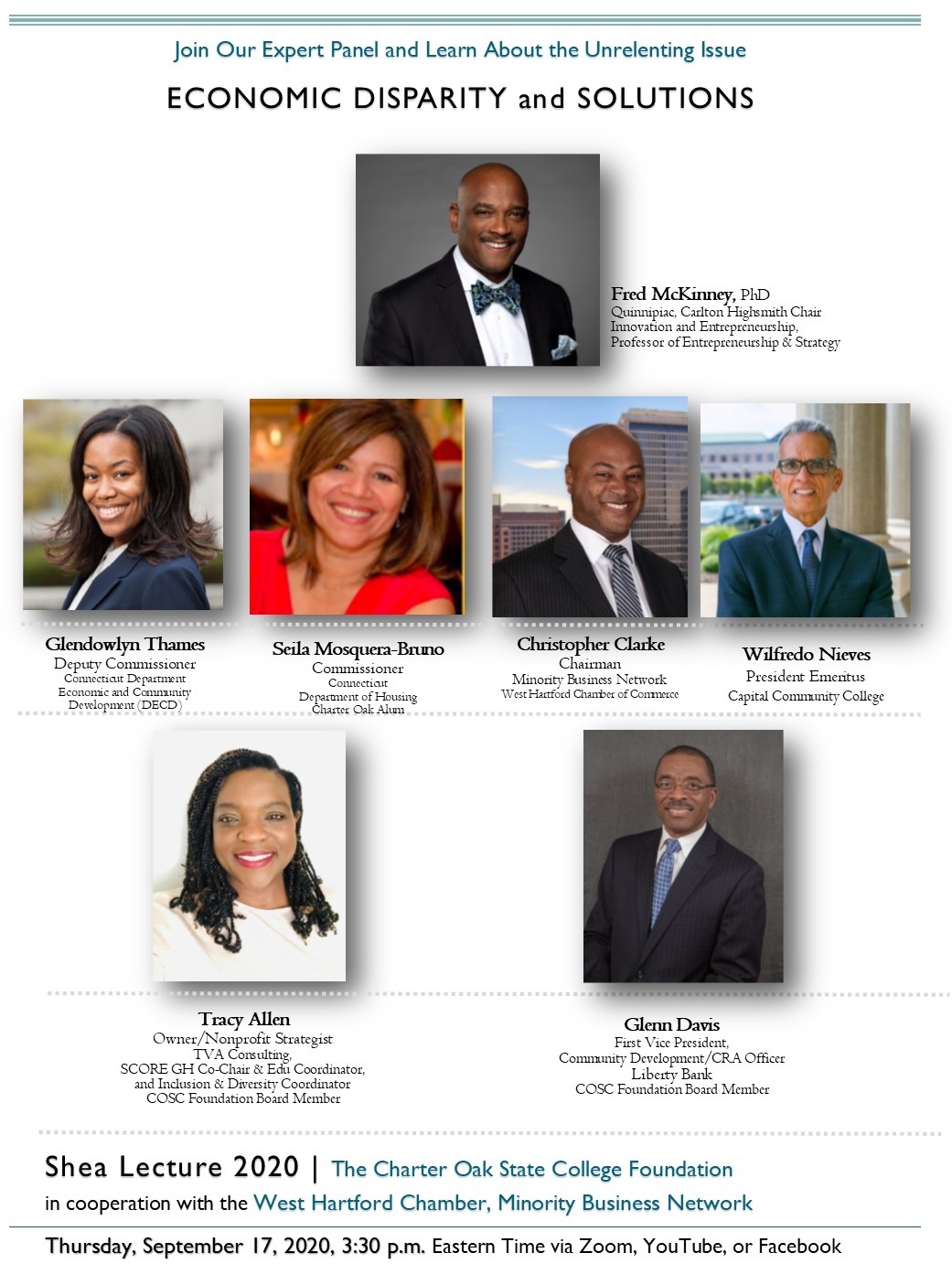 What is the Shea Lecture?
The Shea Lecture Endowment was established in 1987 upon the retirement of Bernard D. Shea, Charter Oak's first President. This Endowed Fund enables the Foundation and College to sponsor public lectures which further the College's mission to engage students and the community in lifelong
The 2020 Shea Lecture Topic:
A panel of distinguished guests will discuss economic disparity within our state and country, the origins, barriers, limitations, and solutions. Subject matter experts will provide insights on economic disparity, housing inequity, higher education, career / workforce planning as well as societal.
History of Foundation Events
Beat the stay-at-home-blues
Charter Oak State College Foundation, along with Program Sponsors Sheffy Mazzaccaro and the Charter Oak Student Association, invite you to join in for some free fun!
Storytelling Live Virtual Event!
Professional Award-Winning storyteller, Terry Wolfisch Cole of Tell Me Another, provided a lineup of COSC alums, students, faculty, board members, and friends to share their personal stories - because our stories matter!
View on Facebook or YouTube:
https://www.facebook.com/tellmeanotherstories/
https://www.youtube.com/channel/UCJGixP4kzn-PWguXbMCmK5g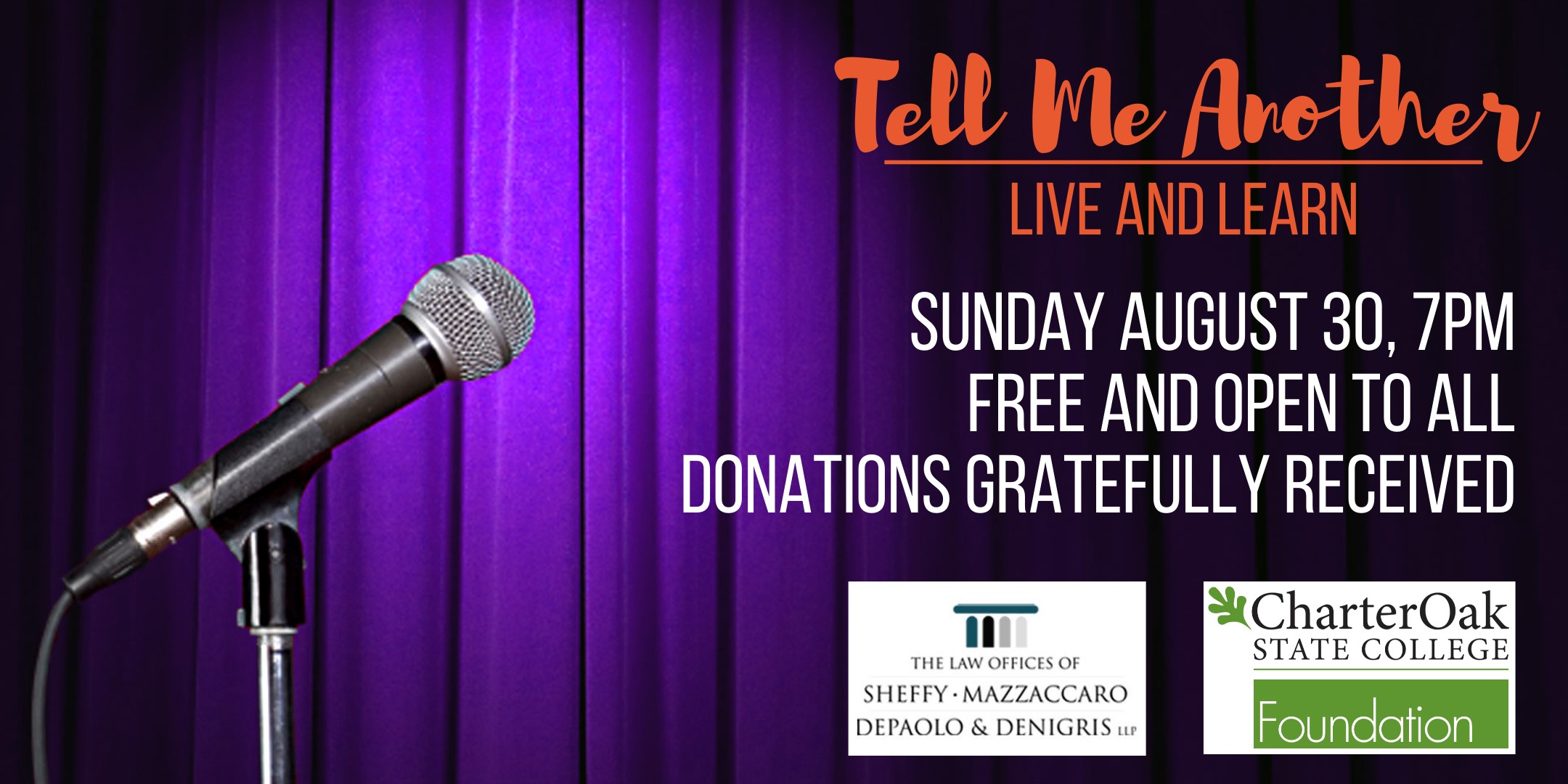 Employer Appreciation Breakfast - Friday, November 8, 2019
Charter Oak State College Celebrated Employer Benefactors and Student Success at the 2nd Annual Employer Appreciation Breakfast, Friday, November 8, 2019, 7:30 am - 9:00 am at the TPC River Highlands Club House, Cromwell, CT

The event featured a variety of speakers including Charter Oak Alum, Seila Mosquera-Bruno, Commissioner of the Connecticut Department of Housing. Nitza Rivera, Aetna, VP of Talent Management, who thanked Charter Oak for the 20-year partnership and the over 200 employees that have earned degrees from Charter Oak and continue to work at Aetna.

Also, the event included the awarding of the prestigious 2019 Golden Acorn Employer of the Year Award. This year's recipient was Middlesex HealthCare. Suzanne D'Amato, Operations Manager, Health Information Services, of Middlesex Healthcare was nominated by current Charter Oak student Kelly Carlson.

Gold Sponsors,Liberty Bank, blumshapiro, Scalia & Associates, and Sheffy Mazzaccaro, made it possible for Charter Oak's community of learners to bring their boss to the complimentary breakfast. Hall said, "The Foundation appreciates and thanks employers who recognize the importance of higher education, and our community sponsors who helped to create this opportunity to honor many of them."

Follow the links to see photos on Facebook, or read more and view photos with captions. Proceeds to benefit the Student Crisis Fund.
COSC 45th Anniversary Celebration
Thank you Just Isn't Enough! We had a record number of attendees, sold-out the mystery wine wall, enjoyed the music by DJ Love, Julio Casiano, and just had a real ball (disco style!). The Charter Oak celebration included old and new friends, staff, faculty, and volunteer leadership. Awards were presented and testimonies were given as we celebrated the life changing work and mission of Charter Oak and the Foundation - degree completion. Please take a moment, view below and follow the links - help us acknowledge our sponsors and donors, plus see the story of the evening in words and photos!

45th Anniversary Celebration : [Program Book] | [Press info] | [photo gallery] | Charter Oak Changes Lives! Testimonial Video

Thank you to our Sponsors:

Thank you to all of our supporters:

And Thank you to our Faculty/Staff Emeriti Award Members:


Photo below includes: From right to left, Emeriti Award Winners with President Ed Klonoski, Linda Larkin, Dr. Merle Harris, Pat Derech, Robert Zabek, Shyamala Raman, Irene Clampet, Provost Shirley Adams, Donald Brodeur, and David Sloane.
Previous Events:
The First Annual Employer Appreciation Breakfast was held on Nov 30th 2018 at River - Waterfront Restaurant, in Wethersfield, CT.
Thank you to our Gold Sponsor:


Other Sponsors can be viewed in the Event Program!

Alums and Students were encouraged to "bring their boss to breakfast" and the 2018 Golden Acorn Employer of the Year Award was presented. Click Here to view our photo gallery!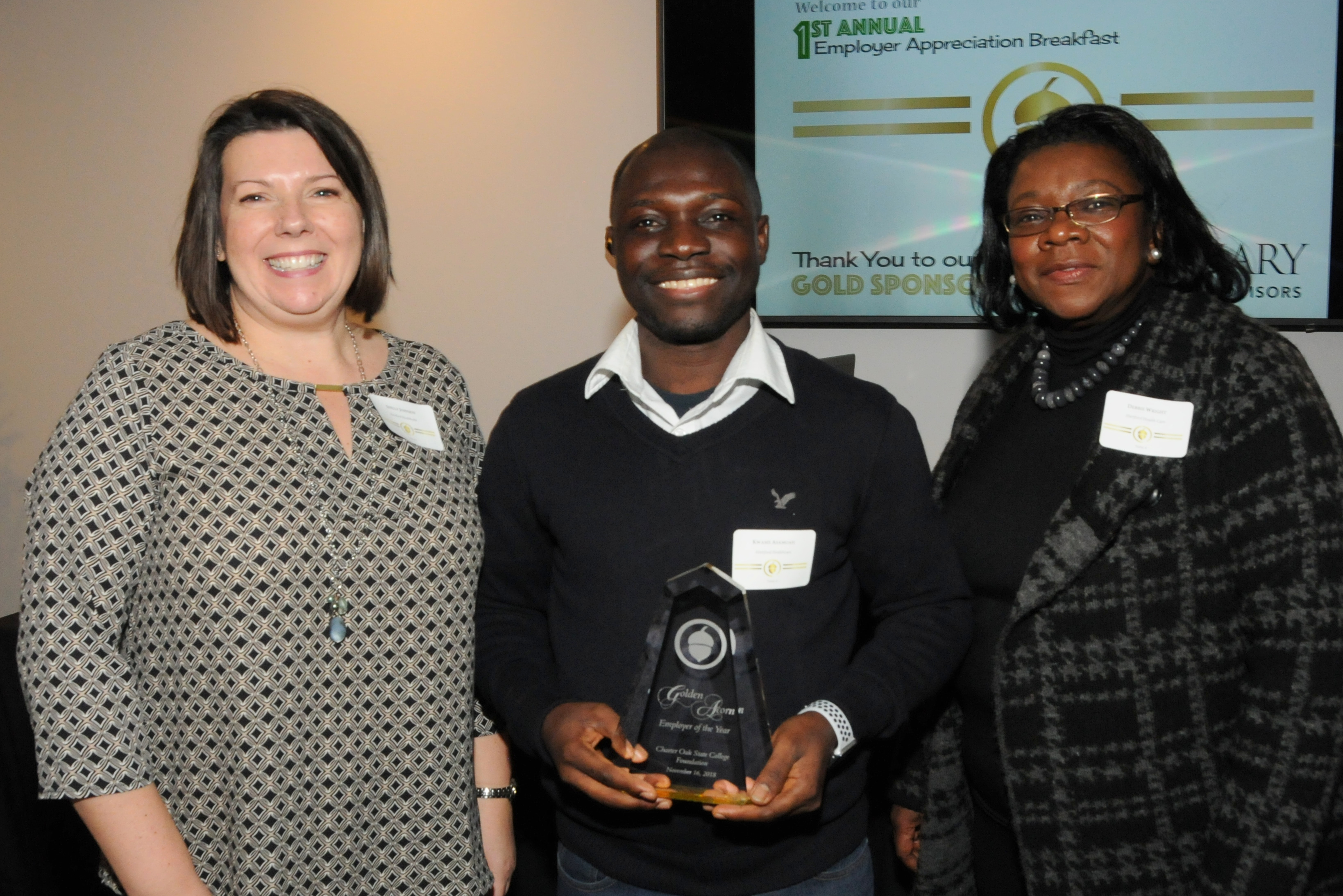 The 2018 Golden Acorn Employer of the Year - Hartford Healthcare! From left to right, Shelly Johnson, Kwame Asamoah, COSC Student and Scholarship Recipient, Debbi Wright, RHIA, System Director of Health Information Management and Guest Speaker. (Missing from the picture is supervisor, Celia Rodriguez.)
Proceeds from the breakfast will be used for the Student Crisis Fund, to help students overcome unforeseen financial hardships in realtime, keeping students on track for degree completion. It is not too late to make a donation to the Student Crisis Fund! Simply follow this link: http://bit.ly/StudentCrisisFund. Thank you!
Entrepreneurial Workshop
Monday, November 26, 2018, FREE Entrepreneurial Workshop Step Three: Go
Monday, October 15, 2018, FREE Entrepreneurial Workshop Step Two: Set
Tuesday, September 25th, FREE Entrepreneurial Workshop Step One: Ready

Career Development Workshops
Complimentary Career Workshop [1, 2, and 3] Presented by Calculus of Talent!

Spring Fundraiser and 2018 Shea Lecture, May 1, 2018
Thank you to our 2018 Shea Lecture - Art of Wellness Panel!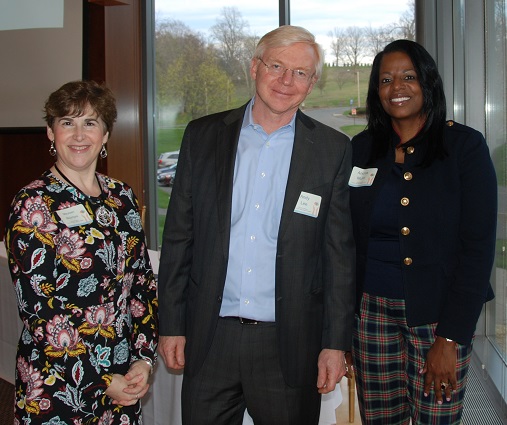 Andy Lee, M.A., Chief Mindfulness Officer, Aetna
Maureen McIntyre, M.A., CEO, North Central Area Agency on Aging (NCAAA)
and Andrea Mullin, B.S., Client Manager, United Healthcare, and WIT Program Graduate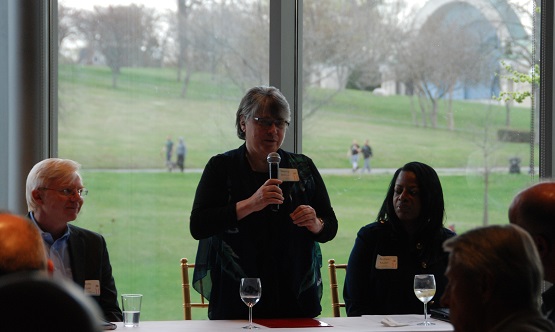 and (centered) Nancy Billias, Ph.D., Professor, University of Saint Joseph, and Core Consulting Faculty, COSC,
2017 Foundation Fall Fundraiser - Celebrating Forty Years!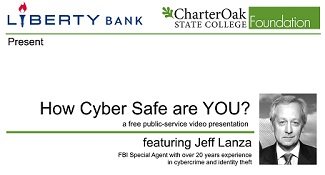 2017 marked 40 years of the COSC Foundation's active service for students of Charter Oak State College
A dinner celebration was held Monday, November 13, 2017 at the Back Nine Tavern on Stanley Golf Course. Charter Oak Foundation Board Members, Alums, Staff, and faculty gathered for dinner and a presentation of the scholarship awards, plus the feature presentation on cyber security safety by Jeff Lanza, retired FBI agent.
Proceeds benefited the Student Crisis Fund Endowment and also provided a free public service presentation.
Thank you to all for making our event a success and providing for students in crisis.

Questions? Contact Carol Hall, Associate Director of Development at chall@charteroak.edu or (860) 515-3889