Get on up and boogie down to our dinner and disco dance
Saturday, March 30th | Farmington Club | 6:00 pm - 10:00 pm
Music by DJ Love! | Silent Auction | Mystery Wine Wall!
What to Wear: Seventies style, blue jeans, semi-formal, or sapphire attire is welcome!
Dinner per person - $55 or Table of 8 - $440 - Register online – here -.

Get on up and boogie down to our dinner and disco dance
Saturday, March 30th | 6:00 pm - 10:00 pm
Farmington Club, 162 Town Farm Road, Farmington

Music by DJ Love! | Silent Auction | Mystery Wine Wall!

6:00 PM Cocktail Hour
- with a fine selection of hot and cold appetizers and open bar

7:00 PM Program
- featuring Faculty and Staff Emeriti Awards and special Alumni and Scholarship guests

7:45 PM Dinner, Dancing, and Dessert
- Station Style dining featuring New York Strip and Roasted Turkey Carving Stations with seasonal mixed vegetables and roasted potatoes, 12 topping salad station, penne with eggplant, spinach & roasted tomatoes plus tortellini alfredo with a happy ending, make-your-own ice cream sundae!
Dinner per person - $55 or Table of 8 - $440 - Register online – here -.
The Charter Oak State College Foundation & Alumni Association Invite you to Celebrate 45 years of Charter Oak State College!
Proceeds will benefit the COSC Foundation Scholarship Fund; providing financial assistance to adults - helping them return to college, complete their degrees, improve their economic status, and in turn, enhance our communities!
Show Your gratitude and Shine the Spotlight on YOUR achievements!
Send in a short sentiment, personal spotlight, or even place a business card size ad in the print & digital 45th Anniversary Program. To Shine the Spotlight & Give Gratitude & Donations visit Give Online or return printable pdf form.
You may alternatively fill out the PDF form to register for the dinner and/or to send your gratitude/donation. Simply print and return the form with payment to Charter Oak State College Foundation, 55 Paul Manafort Drive, New Britain, CT 06053.
Join Connecticut's Finest, Business, and Community Partners & Sponsor!
As a sponsor for the 45th Anniversary, YOU can make an impact on degree completion and receive recognition. Sponsoring COSC Foundation, supports higher education opportunities, helps educate & advance our workforce, improve lives, and in-turn enhances our communities!
Sponsorships include recognition before, during, and after the event before a large audience of our alums and donors. Follow the Sponsorship link or view the Sponsorship Form for more details.
Previous Events:
The First Annual Employer Appreciation Breakfast was held on Nov 30th 2018 at River - Waterfront Restaurant, in Wethersfield, CT.
Thank you to our Gold Sponsor:


Other Sponsors can be viewed in the Event Program!

Alums and Students were encouraged to "bring their boss to breakfast" and the 2018 Golden Acorn Employer of the Year Award was presented. Click Here to view our photo gallery!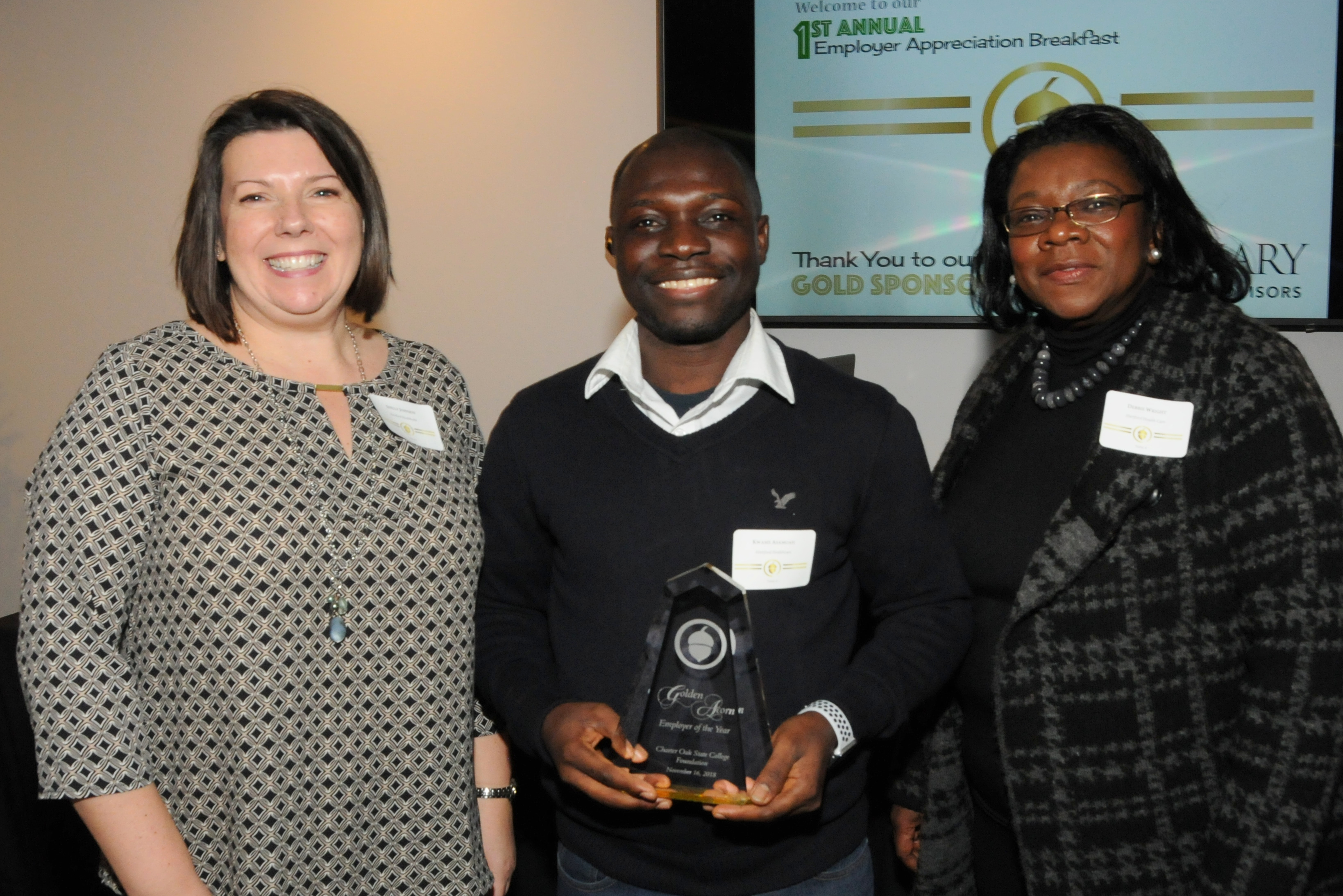 The 2018 Golden Acorn Employer of the Year - Hartford Healthcare! From left to right, Shelly Johnson, Kwame Asamoah, COSC Student and Scholarship Recipient, Debbi Wright, RHIA, System Director of Health Information Management and Guest Speaker. (Missing from the picture is supervisor, Celia Rodriguez.)
Proceeds from the breakfast will be used for the Student Crisis Fund, to help students overcome unforeseen financial hardships in realtime, keeping students on track for degree completion. It is not too late to make a donation to the Student Crisis Fund! Simply follow this link: http://bit.ly/StudentCrisisFund. Thank you!
Entrepreneurial Workshop
Monday, November 26, 2018, FREE Entrepreneurial Workshop Step Three: Go
Monday, October 15, 2018, FREE Entrepreneurial Workshop Step Two: Set
Tuesday, September 25th, FREE Entrepreneurial Workshop Step One: Ready

Career Development Workshops
Complimentary Career Workshop [1, 2, and 3] Presented by Calculus of Talent!

Spring Fundraiser and 2018 Shea Lecture, May 1, 2018
Thank you to our 2018 Shea Lecture - Art of Wellness Panel!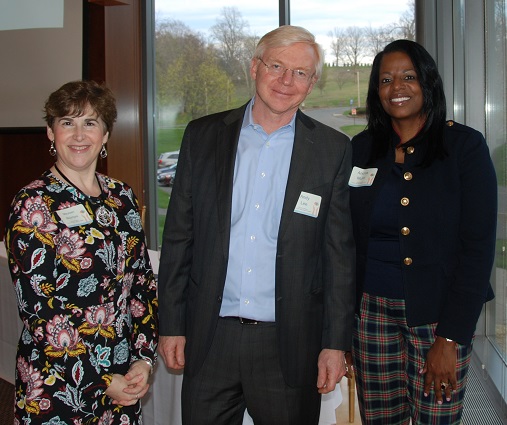 Andy Lee, M.A., Chief Mindfulness Officer, Aetna
Maureen McIntyre, M.A., CEO, North Central Area Agency on Aging (NCAAA)
and Andrea Mullin, B.S., Client Manager, United Healthcare, and WIT Program Graduate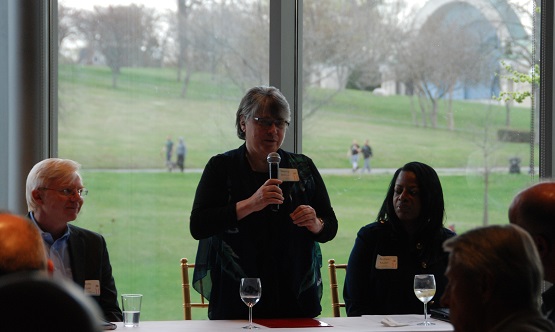 and (centered) Nancy Billias, Ph.D., Professor, University of Saint Joseph, and Core Consulting Faculty, COSC,
2017 Foundation Fall Fundraiser - Celebrating Forty Years!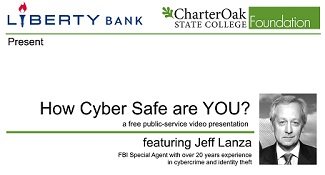 2017 marked 40 years of the COSC Foundation's active service for students of Charter Oak State College
A dinner celebration was held Monday, November 13, 2017 at the Back Nine Tavern on Stanley Golf Course. Charter Oak Foundation Board Members, Alums, Staff, and faculty gathered for dinner and a presentation of the scholarship awards, plus the feature presentation on cyber security safety by Jeff Lanza, retired FBI agent.
Proceeds benefited the Student Crisis Fund Endowment and also provided a free public service presentation.
Thank you to all for making our event a success and providing for students in crisis.

Questions? Contact Carol Hall, Associate Director of Development at chall@charteroak.edu or (860) 515-3889