Workforce development has been an integral part of the mission of Charter Oak State College since its inception in 1973. The College seeks to provide assistance to business and industry in advancing the educational credentials of their employees.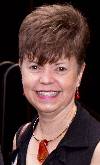 Ask for Nancy!
Nancy A. Taylor, MA, MPA
Assistant Director of Corporate Outreach
If you are interested in joining Charter Oak State College's Corporate Partnership Program, please contact Nancy via email at nataylor@charteroak.edu or by phone at (860) 515-3863.
In 2001, we joined forces with Aetna, a national leader of health plans and related benefits, to provide a specially designed educational program for their customer service employees, delivered entirely online. Since then, we have grown the program, providing a customized curriculum in a flexible format so students may earn a certificate, an associate degree, a bachelor's degree or a master's degree.