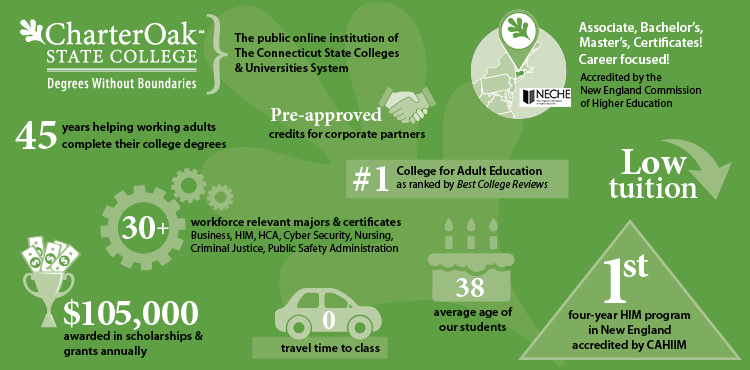 Create the skilled workforce you need!
Charter Oak State College is designed for working adult students. We work with many small to large employers as their trusted educational partner with our Engage program. Let us help you build the workforce you need, with the convenience and flexibility your employees seek.
Charter Oak is proud to offer our corporate partnership employers:
Degree and Certificate programs in today's

most needed fields

Health Information Management
Nursing
Cyber Security
Early Childhood Education
Public Safety Administration
Medical Coding
Business
And many more!

10% tuition discount on top of our already low tuition rates, to your enrolled employees
100% online courses suitable for your busy employees delivered by a reputable, regionally accredited state college
Dedicated staff to customize your corporate learning needs and to guide your employees from application to graduation
Generous transfer of existing college credit as well as credit for prior learning, military and professional certifications for your workforce
Charter Oak successfully serves a busy, working adult population with flexibility and affordability that allows them to earn the degree they need without disrupting their work and home life. Our programs are delivered 100% online in a flexible format so that students may earn a certificate, an associate degree, a bachelor's degree or a master's degree.
Current Corporate Partnership Employers