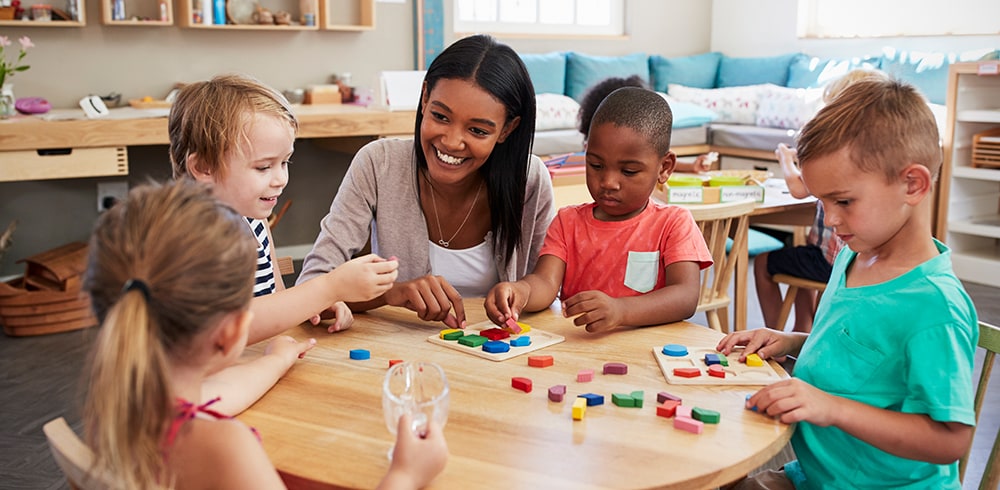 Need a degree or certificate to advance in the field? Are you working and need to attend classes online? Our 100% online degree programs and certificates can help you get there!
Early Childhood Education Programs
The Charter Oak State College Early Childhood Education Program is committed to preparing adult learners to work with young children. The mission of Charter Oak State College is to validate learning acquired through traditional and non-traditional experiences. The college rigorously upholds standards of high quality and seeks to inspire adults through the self-enrichment potential of non-traditional higher education.
Specific to early childhood education, the college values its responsibility to society in developing diverse and qualified teachers to do the important work of caring for and educating young children, contributing to societal change in teaching on behalf of children, promoting ethical decision-making and critical thinking, and supporting collaborative learning consistent with early childhood learning theory that drives classroom practice.
---
We commit to developing graduates in Early Childhood Education who demonstrate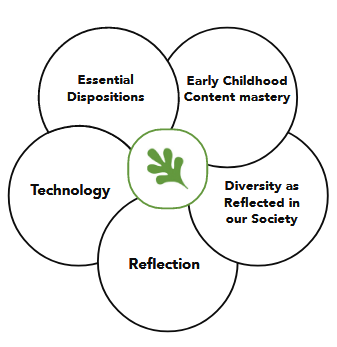 Essential Dispositions
By engaging in coursework with expert, supportive faculty, early childhood students at Charter Oak State College cultivate dispositions for teaching that contribute to children's learning. Dispositions are the inherent qualities, characteristics, attributes, or tendencies that identify how a person approaches interactions and experiences. Early childhood teachers demonstrate their own desire to grow as professionals in the early childhood field. They are life-long learners; positive, resourceful and collaborative in working to meet the needs of all children and the families that they serve. They also commit to learning how to effectively communicate both orally and in writing.
Early Childhood Content Mastery
Graduates of high-quality teacher education programs must have a strong understanding of child growth and development. They understand the significance of developing relationships with children and their families, facilitating meaningful developmentally appropriate experiences for children and engaging in effective assessment practices in their work with young children. Since all teachers must have content knowledge related to the discipline, Charter Oak State College students commit to advancing their understanding of early childhood pedagogy by committing to their own learning.
Diversity as Reflected in our Society
The early childhood teaching workforce should reflect the communities in which its children live. This means that developing community members to work in early childhood education is necessary to positively impact the growth and development of communities. We commit to focusing on the strengths of our students and building upon their community and culture to support them in developing competencies as early childhood professionals.
Reflection
Early Childhood Teachers must be able to engage in deep reflection pertaining to their work. By reflecting, teachers evaluate both their teaching as well as their dispositions in working with young children and their families. They also become aware of their own thinking and over time begin to internalize early childhood education best practices. Early Childhood students at Charter Oak State College engage in deep reflection in all of their courses as a way to show their commitment to growing as professionals in the early childhood field.
Technology
21st century learners are problem-solvers. They are creative and critical thinkers, effective communicators and flexible. As online learners, they understand the benefits and uses of technology and seek to develop global competencies that reflect their understanding of the world. Early Childhood Education students at Charter Oak State College utilize online resources to further their understanding of child growth and development and developmentally appropriate teaching practices.
Finishing my degree at Charter Oak State College was the most amazing experience. From the initial enrollment meeting, the application process, to the final degree, I was guided step by step. The advisors were hands on and attentive, always willing to answer my questions. Without the ability to complete my education online I would never have completed my Bachelor's degree. As a single parent working a full time job this program helped me to be able to accomplish the goals I set for myself.
Federal Financial Aid is Available to Those Who Qualify
Charter Oak State College is a Connecticut State College and is accredited by the New England Commission of Higher Education (NECHE).
Why Charter Oak State College?
100% online
Credit for credentials
Six (6) start dates
Expert Faculty