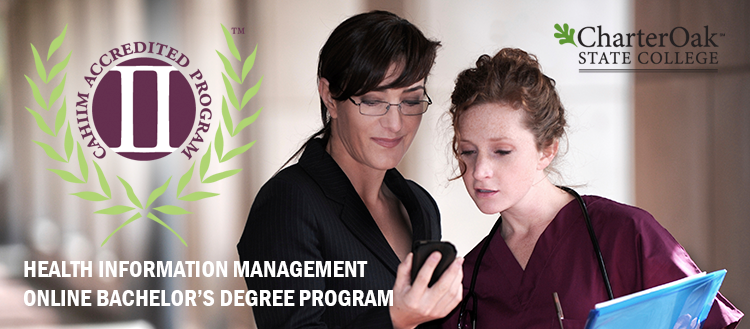 The first 4-year HIM program in New England accredited by CAHIIM
Charter Oak's online bachelor's degree in Health Information Management has been developed by experts in this fast-growing field. The Bureau of Labor Statistics cites health information management as one of the 20 fastest growing occupations in the U.S.
The bachelor's degree program of Health Information Management at Charter Oak State College is accredited by the Commission on Accreditation for Health Informatics and Information Management Education (CAHIIM)
Request Information About Our Health Information Management Degree
Call us right now to talk about finishing college & starting your future: (860) 515-3701
Health Information Major
Graduates of the HIM program will have the skills and knowledge needed to manage patient data and work with electronic health records in today's health care environments. Our program is guided by the principle of quality healthcare through quality information.
All foundation and major requirements must be completed with a grade of 'C' or higher.
Please note the following Criminal Background Check and Drug Screen Information: Completing a HIM degree requires the successful participation in an on ground internship/practicum. Students may be subject to a criminal background check and drug screening prior to being placed in any internship. Furthermore, anyone convicted of a felony and even some misdemeanors will not be able to complete most certification and licensing exams, nor find gainful employment in most health care settings.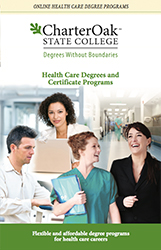 Download our Health Care Brochure
HIM 2017 Program Outcomes
RHIA Exam Pass Rate: 87.5 % compared to the national pass rate of 72%.
Employment: 90.0% of graduates are employed in HIM or a related field (10 out of 11 graduates).
Transfer Credits: Ranged from 9-122 with an average of 64 and a median of 66