The Charter Oak State College Foundation is committed to helping create
Brighter Futures, One Degree at a Time.
The all-volunteer Board of Directors believes in the mission of providing financial resources to help adult students achieve their academic and career aspirations.
Help Create Brighter Futures by Giving!

News!
2020 & 2021 Golden Acorn Employer(s) of the Year Announced!
For Immediate Release
NEW BRITAIN, CT – November 22, 2021
The Charter Oak State College Foundation announces Winners of the Golden Acorn Employer of the Year Award for 2020 and 2021. Employers were honored at the Foundation's Annual Employer Appreciation Breakfast held on Thursday, November 18, 2021 at the TPC River Highlands in Cromwell.
2020 Golden AcornEmployer of the Year winner, Russ Arnold, Director of Public Works/Town Engineer for the Town of Farmington; nominated by David Parent, 2021 COSC Graduate.
2021 Golden Acorn Employer of the Year winners include:
Stephen Clark, Newington Police Chief; nominated by Henry Rodriguez, COSC student;
and Svitlanna Czernee, Nadia Marynovych, and Kristen Bodenstein, The Goddard School of Westport; nominated by Nicole Vezina, COSC student.
Details along with photos of award winners and a list of all fifty-two nominees are attached. [Announcement]
Scholarship & Grants Applications Available (Oct. 28 - Nov 28)

The Charter Oak State College Foundation is pleased to announce the Spring 2022 Scholarship and Grant applications are now available. Submission due date is Sunday, November 28, 2021 for spring semester awarding by December 16, 2021.
Current Students and those enrolling for the Spring Semester are encouraged to apply. Please visit the MYCharterOak Student Portal (Self-Service Tab/Scholarships for details, criteria and access to the online applications)
Naomi K. Cohen Public Service Scholarship | Give Now


To honor the service and many contributions to higher education of Regent Naomi K. Cohen, the members of the Board of Regents for Higher Education (BOR), are establishing the Naomi K. Cohen Public Service Scholarship.

A fitting tribute to honor our 1995 Charter Oak Graduate, Naomi Cohen, and her service as a tireless advocate for Connecticut's students and families.

Thank you in advance for honoring Naomi and helping promote her passion - greater access to higher education and degree completion. Please make your donation

Online - https://bit.ly/RegentCohenScholarship.
By Mail, please send a check payable to COSC Foundation / Cohen Scholarship
Charter Oak State College Foundation
55 Paul Manafort Drive
New Britain, CT 06053

Dr. Shirley Adams announced her retirement from Charter Oak State College after a very rewarding and industrious career. She helped evolve the college from a credit aggregating institution to an online college with academic programs that lead our students to career satisfaction and economic improvement.

She has tirelessly managed the academics, the staff, and the many details required to keep our institution achieving academic accreditations and our students achieving academic successes.

As a way to recognize and honor her dedication and commitment to Charter Oak State College, our academic programs, and our students we, together, formed a legacy in her name – The Shirley M. Adams, Ph.D., Scholarship Fund – New Beginnings.

This new scholarship will be awarded beginning in the fall of 2021. We are grateful to all who donated and help us reach the $10,00 endowment level.

Donations are still being excepted, because the more we raise, the more we can give away!

To donate and send a farewell message to Shirley – please visit this link.

The Dr. George G. Moker Endowed Scholarship

1989 Charter Oak State College graduate, Dr. George Moker,
is paying-it-forward, big-time! To help other students realize their dreams of degree completion and to say, "thank you to Charter Oak," Dr. George G. Moker endowed a scholarship fund at Charter Oak State College Foundation with a generous initial gift totaling $10,000.

His intent in creating this scholarship program is to help others believe they can achieve success with a college degree as a catalyst to future opportunities. The scholarship will give financial assistance to a Charter Oak student striving to complete their degree in a business program. [more]
How can you help?
Give - Participate - Shop - Leave a Legacy

As you are able, give a gift that will be used to help another succeed on the path to degree completion. Life changing, life enhancing, a college degree provides that helping hand up to improve economic and career mobility.
Employer Appreciation Breakfast
Thursday, November 18, 2021 | 7:30 am
TPC River Highlands, Cromwell, Connecticut
2020 & 2021 Golden Acorn Employer(s) of the Year
Details [here]!
2022 Spring Fundraiser | TBA
Simply s

hop at smile.amazon.com/ch/06-0969831, or with AmazonSmile ON in the Amazon Shopping app, and AmazonSmile donates to Charter Oak State College Foundation Inc. As one student declared, "When it seemed impossible to finish my degree…Charter Oak made it possible (and affordable)."
The college, a virtual learning leader for over 45 years, and the Charter Oak State College Foundation are committed to degree completion and career advancement opportunities. Shop AmazonSmile & Support Scholarships to Remove the Barriers to Degree Completion!
CharterOak Cares Emergency Relief Fund established to Help Students Stay Connected.

The Charter Oak State College Foundation has established a Charter Oak Cares – Emergency Relief Fund to help with the cost of internet services, a crucial utility, to ensure our students stay connected and online.
About the Charter Oak State College Foundation
The Charter Oak State College Foundation is dedicated to supporting flexible and comprehensive degree completion opportunities for adults and technology innovations through the work of Charter Oak State College. The Foundation is a vehicle for accepting private gifts, donations and bequests for activities that are not adequately funded by the State of Connecticut. [Give online]
The Foundation Board of Directors provides volunteer leadership for development and fundraising programs and stewardship of the Foundation's assets in order to assist deserving and under employed adult students meet college costs; award scholarships; and encourage technological initiatives that enable the College to be a leader in online higher education. [About Scholarships]
The Foundation supports the College in its vision - A dynamic community of online learners, advancing the nation's workforce one graduate at a time. Contributions to the Charter Oak State College Foundation, a 501(c)(3) organization, are tax-deductible to the full-extent allowed by the IRS Regulations.

Leave a Legacy
Interested in Leaving a Legacy and Making a Lasting Impact?
A legacy gift to the COSC Foundation is the Gift of Education, a gift that helps to remove barriers to economic improvement and changes lives for our graduates and their families. Affect generations to come and make the biggest impact with your generosity.

As we grow the COSC Foundation, we can give more and improve more lives by financially assisting more students seeking to earn credentials and college degrees.
Let's begin with a simple conversation, please contact Carol Hall, Executive Director, Charter Oak State College Foundation via phone or email: chall@charteroak.edu | 860.515.3889.
Learn More about the Foundation
Charter Oak State College Foundation not only provides financial assistance to students through scholarships and grants, the Foundation seeks to provide opportunity also to continue learning and to celebrate success through a variety of programs, lectures, and special events.

Fall 2019
Charter Oak State College Celebrated Employers and Student Success at the 2nd Annual Employer Appreciation Breakfast, Friday, November 8, 2019, 7:30 am - 9:00 am at the TPC River Highlands Club House, Cromwell, CT.

The Employer Appreciation Breakfast featured a variety of speakers including Charter Oak Alum, Seila Mosquera-Bruno, Commissioner of the Connecticut Department of Housing(photo 3). Nitza Rivera, Aetna, VP of Talent Management (photo 2), who thanked Charter Oak for the 20-year partnership and the over 200 employees that have earned degrees from Charter Oak and continue to work at Aetna.

Plus, the prestigious 2019 Golden Acorn Employer of the Year Award award was presented to this year's recipient was Middlesex HealthCare. (photo 1) Suzanne D'Amato, Operations Manager, Health Information Services, of Middlesex Healthcare was nominated by current Charter Oak student Kelly Carlson.

Follow the links to see photos, the press release and view photos with captions.


Gold Sponsors,Liberty Bank, blumshapiro, Scalia & Associates, and Sheffy Mazzaccaro, made it possible for Charter Oak's community of learners to bring their boss to the complimentary breakfast.

Spring 2019
Thank you Just Isn't Enough! Thank you to all COSC Foundation and Alumni Association Board Members, the Student Association, Staff, Faculty, the Emeriti Award Winners, and friends of Charter Oak State College. The 45th Anniversary Celebration was a huge success! We had a record number of attendees, sold-out the mystery wine wall, enjoyed the music by DJ Love, Julio Casiano, and just had a real ball (disco style!).

45th Anniversary Celebration - view photos

and

Charter Oak Changes Lives - watch Testimonial Video
Fall 2018
The First Annual Employer Appreciation Breakfast was held on Nov 30th 2018 at River - Waterfront Restaurant, in Wethersfield, CT.
Thank you to our Gold Sponsor:


Other Sponsors can be viewed in the Event Program!

Alums and Students were encouraged to "bring their boss to breakfast" and the 2018 Golden Acorn Employer of the Year Award was presented. Click Here to view our photo gallery!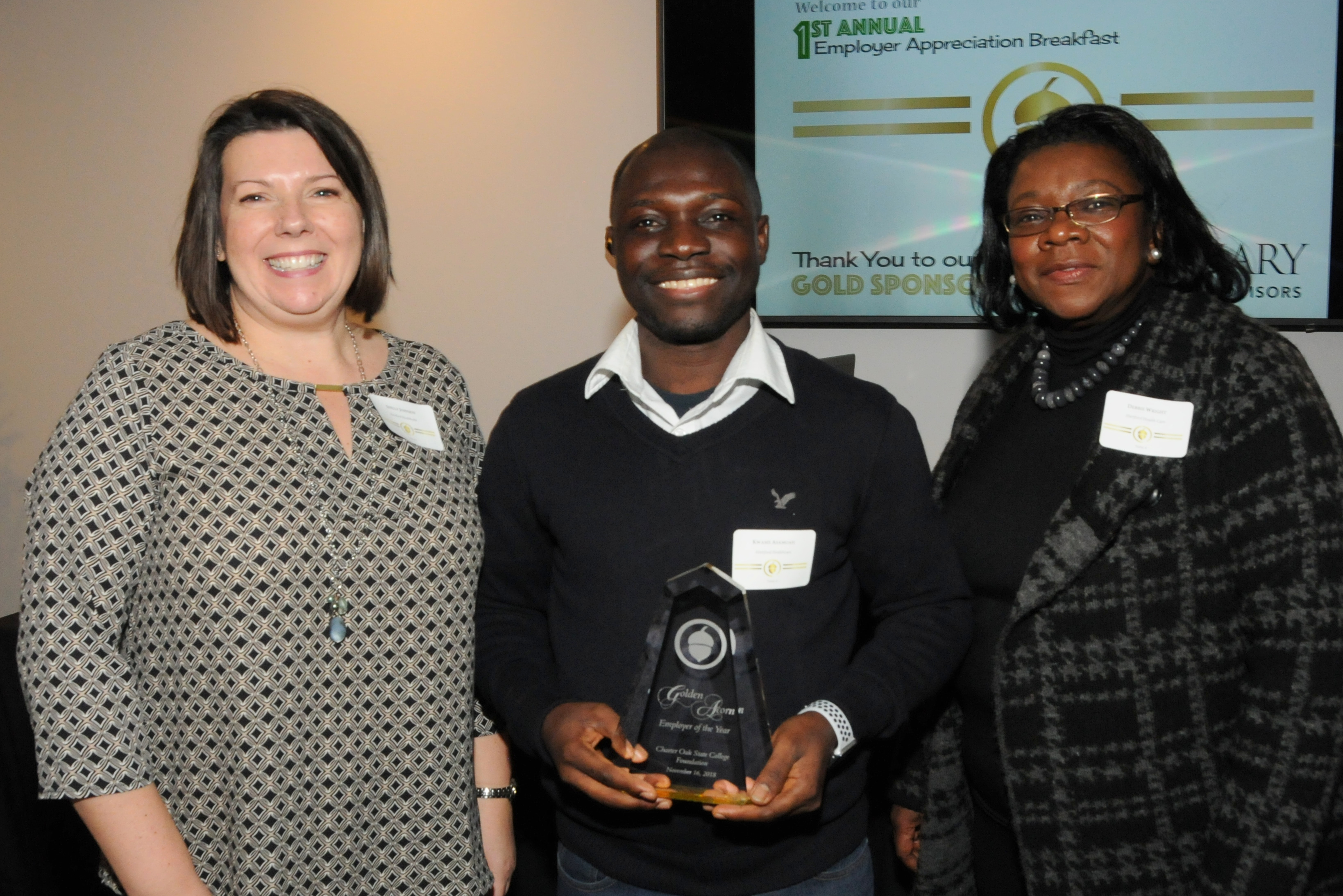 The 2018 Golden Acorn Employer of the Year - Hartford Healthcare! From left to right, Shelly Johnson, Kwame Asamoah, COSC Student and Scholarship Recipient, Debbi Wright, RHIA, System Director of Health Information Management and Guest Speaker. (Missing from the picture is supervisor, Celia Rodriguez.)
Proceeds from the breakfast were used for the Student Crisis Fund, to help students overcome unforeseen financial hardships in realtime, keeping students on track for degree completion. Thank you!
Spring 2018
Thank you to our Shea Lecture - Art of Wellness Panel

Andy Lee, M.A., Chief Mindfulness Officer, Aetna
Maureen McIntyre, M.A., CEO, North Central Area Agency on Aging (NCAAA)
and Andrea Mullin, B.S., Client Manager, United Healthcare, and WIT Program Graduate
and (centered below) Nancy Billias, Ph.D., University of Saint Joseph, and Core Consulting Faculty, COSC.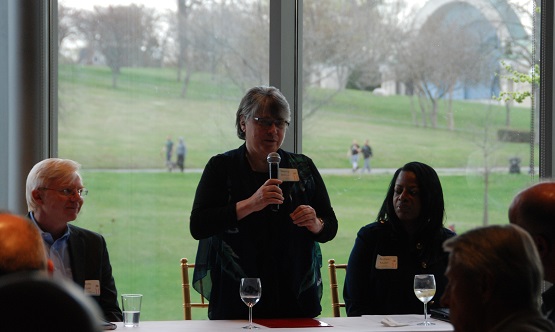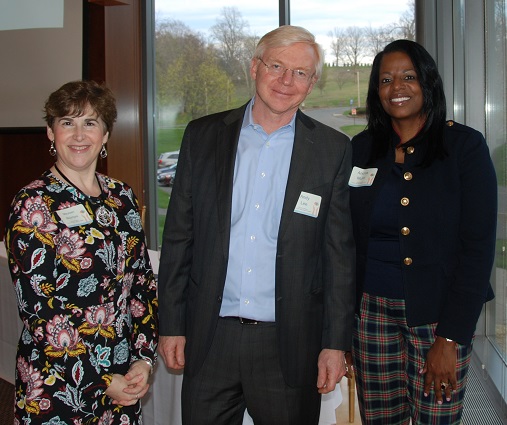 Fall 2017
CyberSafety - Sponsored by Liberty Bank and the COSC Foundation Rankin Chair


Annual Report
The Annual Report for FY2017 provides a look into the Foundation's all volunteer board of director's efforts in providing for financial support of COSC Students through scholarships, grants, and innovative ideas. View today! 2017 Annual Report
For more information about the Foundation or our initiatives, please feel free to contact Carol Hall via email at chall@charteroak.edu or by calling (860) 515-3889.