The COSC Foundation is committed to improving lives by providing financial resources to adult students striving to complete their college degree. Additionally, we are committed to technology innovations to advance and promote Charter Oak State College.

COSC 45th Anniversary Celebration
Thank you Just Isn't Enough! Thank you to all COSC Foundation and Alumni Association Board Members, the Student Association, Staff, Faculty, the Emeriti Award Winners, and friends of Charter Oak State College. The 45th Anniversary Celebration was a huge success! We had a record number of attendees, sold-out the mystery wine wall, enjoyed the music by DJ Love, Julio Casiano, and just had a real ball (disco style!).
2018-2019 Annual Appeal Challenge
Marcia's Challenge to YOU
A 1993 Graduate, Alumni Association Board Member, Foundation Board Member, longtime supporter, and fan of Charter Oak, Marcia Anderson-Esson, poses this challenge to you:

"Add a zero to the number of years since your graduation, or your affiliation with Charter Oak, and make a donation of that amount to the Annual Appeal."

She's done it! Will you?! Add a zero and show your pride and support of Charter Oak's mission. Donate by returning Annual Appeal Donation Form or online at: bit.ly/AddAZero.
About the Charter Oak State College Foundation
The Charter Oak State College Foundation is dedicated to supporting flexible and comprehensive degree completion opportunities for adults and technology innovations through the work of Charter Oak State College. The Foundation is a vehicle for accepting private gifts, donations and bequests for activities that are not adequately funded by the State of Connecticut.
The Foundation Board of Trustees provides volunteer leadership for development and fundraising programs and stewardship of the Foundation's assets in order to assist deserving and under employed adult students meet college costs; award scholarships; and encourage technological initiatives that enable the College to be a leader in online higher education.
The Foundation supports the College in its vision - A dynamic community of online learners, advancing the nation's workforce one graduate at a time.
Fiscal Year 2017/2018 offered an opportunity to be CyberSafe, learn the Art of Wellness, and give and receive financial assistance for the benefit of hard working adult students! Thank you to all who gave, supported, and participated... Sincerely, your Foundation Team.

Fiscal Year 2018/2019 Scholarship Awards have been distributed.
Thank you to all who took the time to reply. The Foundation Board had many tough decisions to make as there was any overwhelming amount of qualified students with financial need. Please consider applying next year.
Thank you to our 2018 Shea Lecture - Art of Wellness Panel!
Andy Lee, M.A., Chief Mindfulness Officer, Aetna
Maureen McIntyre, M.A., CEO, North Central Area Agency on Aging (NCAAA)
and Andrea Mullin, B.S., Client Manager, United Healthcare, and WIT Program Graduate
and (centered below) Nancy Billias, Ph.D., University of Saint Joseph, and Core Consulting Faculty, COSC.

CyberSafety - Sponsored by Liberty Bank and the COSC Foundation Rankin Chair
Watch Jeff Lanza's How Cyber Safe are YOU?
Read Jeff Lanza's Simple Safeguards: Preventing Identity Theft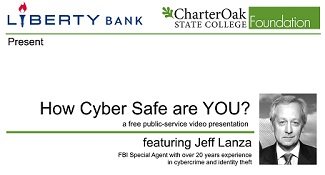 Annual Appeal
2018 / 2019 Annual Appeal | Add a Zero

Your gift will be used to help the next student achieve their dream of earning a college degree, improve their career options, and change the financial outlook for their live, their family, and even generations to come! Add a zero, show your pride and support of Charter Oak's mission.
Return the Annual Appeal Giving Form or Give Online today.
Annual Report
The Annual Report for FY2017 provides a look into the Foundation's all volunteer board of director's efforts in providing for financial support of COSC Students through scholarships, grants, and innovative ideas. View today! 2017 Annual Report
For more information about the Foundation or our initiatives, please feel free to contact Carol Hall via email at chall@charteroak.edu or by calling (860) 515-3889.