The Charter Oak State College Foundation
Creating Brighter Futures, One Degree at a Time.

The Charter Oak State College Foundation Mission is to make higher education a possibility for all, to help eliminate gender and racial inequities, reduce wage and poverty gaps and to ultimately, enrich the lives of students, graduates, children, the workforce, and our communities.
The Charter Oak State College Foundation Awards over 100 students each year giving approximately $150,000 in financial support to Charter Oak Students, Creating Brighter Futures, one scholarship, one grant, one student, one degree at a time!
These awards are made possible by generous donors, community and business partners, the awarding of grant, and by our legacy endowment funds (interest earnings).
Life changing, transformative, a college degree provides a hand-up to improve economic and career mobility. We help reduce student debt and make dreams of degree completion more attainable.
Would you Give a gift (today!) to help another succeed on the path to degree completion?
How can you help?
Give - Participate - Leave a Legacy
Help Create Brighter Futures by Giving Today!

Give
The all-volunteer Board of Directors believes in the mission of providing financial resources to help adult students achieve their academic and career aspirations. Join us in our fundraising and awareness raising efforts.
50th Anniversary Celebration!
The 50th Year Celebration will honor our past, illuminate our now, and explore our future. We will be celebrating our golden milestone through a variety of events, activities, and outreach which we invite you to be a part of.
Anniversary Gala | Saturday, June 10, 2023
6:00 pm – 11:00 pm, Hartford Marriott Downtown | 200 Columbus Boulevard, Hartford, Connecticut
Semi-Formal Dinner, Dance Fundraiser - Ticket Prices begin at $150 pp
Visit the Event Page (for more details and to reserve your tickets!)
Opportunities to Honor & Support 50 Years of Tranformation!
Please celebrate with a sponsorship, program book ad or directory listing, donation, auction item or something completely unique. We are happy to tailor a sponsorship or donation that matches your philanthropic goals.



Fall of 2022 we held our Annual Employer Appreciation Breakfast, where our students and graduates invited their Boss to Breakfast as a show of appreciation!

The Foundation honored and acknowledged the employers & bosses who have contributed to student success.
We will also honored President Ed Klonoski and his 25 years of service to Charter Oak State College, and Nancy Martone, COSC Class of 1996 on her notable career and service as an Alumni Ambassador! [full agenda and program book pdf here]

Led by Joyce Petrella, President COSC Foundation and Managing Partner of Calculus of Talent, the Foundation is launching a bold big effort to raise more to give more! Many of our students show their appreciation but, the need is greater than our resources. [read more by opening the pdf here]

Please consider honoring President Ed Klonoski's 25 Years of Service, the employers, award winners, and the Foundation's all-volunteer board with your gift of any size today!

Help the Foundation raise $250,000 in Fiscal Year 2023 To Double our GIVING!
About the Charter Oak State College Foundation
The Charter Oak State College Foundation is dedicated to supporting flexible and comprehensive degree completion opportunities for adults and technology innovations through the work of Charter Oak State College. The Foundation is a vehicle for accepting private gifts, donations and bequests for activities that are not adequately funded by the State of Connecticut. [Give online]
The Foundation Board of Directors provides volunteer leadership for development and fundraising programs and stewardship of the Foundation's assets in order to assist deserving and under employed adult students meet college costs; award scholarships; and encourage technological initiatives that enable the College to be a leader in online higher education. [About Scholarships]
The Foundation supports the College in its vision - A dynamic community of online learners, advancing the nation's workforce one graduate at a time.
Contributions to the Charter Oak State College Foundation, a 501(c)(3) organization, are tax-deductible to the full-extent allowed by the IRS Regulations. Tax ID # 06-0969831

Leave a Legacy
Interested in Leaving a Legacy and Making a Lasting Impact?
A legacy gift to the COSC Foundation can be designated to the fund of your choice and can be held in perpetuity - impacting generations to come. A legacy gift can be established to intentionally remove barriers to higher education degree completion, increase opportunity for economic improvement, and to help create brighter futures for our graduates and their families. A legacy or endowment gift gives a gift of education that keeps on giving - making a lasting impact.
Let's begin with a simple conversation, please contact Carol Hall, Executive Director, Charter Oak State College Foundation via phone or email: chall@charteroak.edu | 860.515.3889.
Learn More about the Foundation
Charter Oak State College Foundation not only provides financial assistance to students through scholarships and grants, the Foundation seeks to provide opportunity also to continue learning and to celebrate success through a variety of programs, lectures, and special events.

Annual Report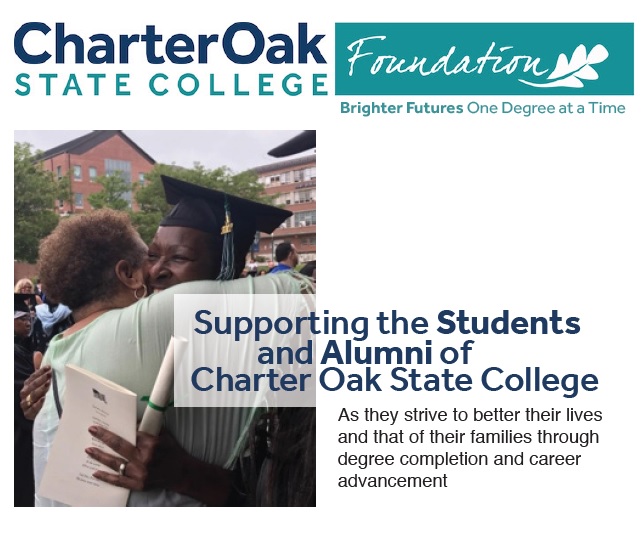 Audit Report
The audit report on the Charter Oak State College Foundation, Inc. for the fiscal year ended June 30, 2021.
*Please note that this report contains zero recommendations.
For more information about the Foundation or our initiatives, please feel free to contact Carol Hall via email at chall@charteroak.edu or by calling (860) 515-3889.