2017 marked 40 years for COSC Foundation. Forty years of being committed to improving lives by providing financial resources to adult students striving to complete their college degree. Forty years in providing for technology innovations through the work of Charter Oak State College.
What's Your Charter Oak Story?
COSC Foundation Annual Appeal celebrates 40 years by asking: What's Your Charter Oak Story? Share your story on social media with hashtag #myCharterOakStory or email your story to foundation@charteroak.edu.
2018 Shea Lecture & Spring Dinner | May 1, 2018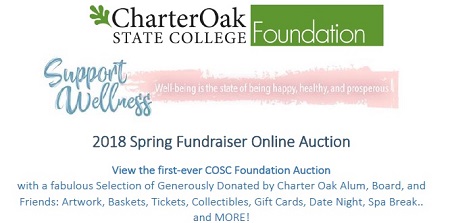 Thank you to our talented and generous
Alum, Board, and Friends of Charter Oak!
Online Auction to Benefit the Charter Oak State College Foundation Scholarship Fund!
Visit the website below, Register to Bid, View the Catalog, ...and support Degree Completion and Continuous Education for overall Wellbeing! With Your Best bid.
Charter Oak State College Foundation ONLINE Auction Fundraiser
Or, make a donation directly to: Donate Now!
Thank you to our 2018 Shea Lecture - Art of Wellness Panel!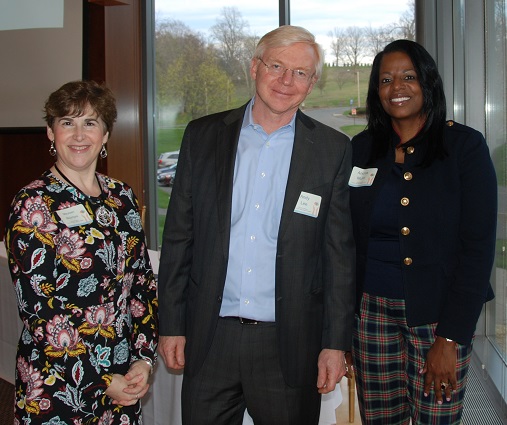 Andy Lee, M.A., Chief Mindfulness Officer, Aetna
Maureen McIntyre, M.A., CEO, North Central Area Agency on Aging (NCAAA)
and Andrea Mullin, B.S., Client Manager, United Healthcare, and WIT Program Graduate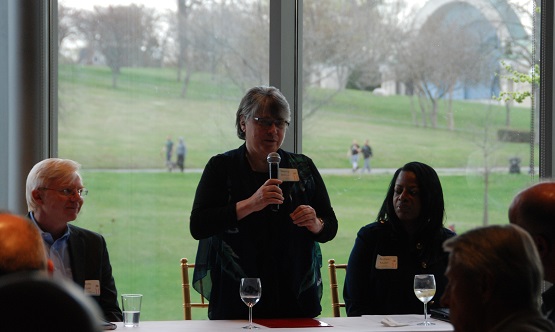 and (centered) Nancy Billias, Ph.D., Professor, University of Saint Joseph, and Core Consulting Faculty, COSC,
Annual Appeal
Also, as the Foundation celebrates 40 years of Giving, and with over 15,000 graduates, this year's annual appeal is asking 400 to give $40 to the unrestricted fund. Will you be one? Read our Annual Appeal flyer (PDF) or give online.
Annual Report
The Annual Report for FY2017 provides a look into the Foundation's all volunteer board of director's efforts in providing for financial support of COSC Students through scholarships, grants, and innovative ideas. View today! 2017 Annual Report
About the Charter Oak State College Foundation
The Charter Oak State College Foundation is dedicated to supporting flexible and comprehensive degree completion opportunities for adults and technology innovations through the work of Charter Oak State College and the Connecticut Distance Learning Consortium. The Foundation is a vehicle for accepting private gifts, donations and bequests for activities that are not adequately funded by the State of Connecticut.
The Foundation Board of Trustees provides volunteer leadership for development and fundraising programs and stewardship of the Foundation's assets in order to assist deserving and under employed adult students meet college costs; award scholarships; and encourage technological initiatives that enable the College and the Consortium to be leaders in higher education.
The Foundation supports the College in its vision - A dynamic community of online learners, advancing the nation's workforce one graduate at a time.
For more information about the Foundation or our initiatives, please feel free to contact Carol Hall via email at chall@charteroak.edu or by calling (860) 515-3889.