The Charter Oak State College Foundation is committed to helping create
Brighter Futures, One Degree at a Time.
In 2021/22, the Charter Oak State College Foundation Awarded $150,000 to 120 Students, Creating Brighter Futures, one scholarship, one grant, one student, at a time!
These awards are made possible primarily from the generosity of donors and from the interest earnings of investments.
Give a gift (today!) that will be used to help another succeed on the path to degree completion.
Life changing, transformative, a college degree provides a hand-up to improve economic and career mobility. We help reduce student debt and make their dream of completion more attainable.
How can you help?
Give - Participate - Leave a Legacy
Help Create Brighter Futures by Giving Today!

Give
The all-volunteer Board of Directors believes in the mission of providing financial resources to help adult students achieve their academic and career aspirations. Join us in our fundraising, and awareness raising efforts.
About the Charter Oak State College Foundation
The Charter Oak State College Foundation is dedicated to supporting flexible and comprehensive degree completion opportunities for adults and technology innovations through the work of Charter Oak State College. The Foundation is a vehicle for accepting private gifts, donations and bequests for activities that are not adequately funded by the State of Connecticut. [Give online]
The Foundation Board of Directors provides volunteer leadership for development and fundraising programs and stewardship of the Foundation's assets in order to assist deserving and under employed adult students meet college costs; award scholarships; and encourage technological initiatives that enable the College to be a leader in online higher education. [About Scholarships]
The Foundation supports the College in its vision - A dynamic community of online learners, advancing the nation's workforce one graduate at a time. Contributions to the Charter Oak State College Foundation, a 501(c)(3) organization, are tax-deductible to the full-extent allowed by the IRS Regulations. Tax ID # 06-0969831

Leave a Legacy
Interested in Leaving a Legacy and Making a Lasting Impact?
A legacy gift to the COSC Foundation can be designated to the fund of your choice and can be held in perpetuity - impacting generations to come. A legacy gift can be established to intentionally remove barriers to higher education degree completion, increase opportunity for economic improvement, and to help create brighter futures for our graduates and their families. A legacy or endowment gift gives a gift of education that keeps on giving - making a lasting impact.
Let's begin with a simple conversation, please contact Carol Hall, Executive Director, Charter Oak State College Foundation via phone or email: chall@charteroak.edu | 860.515.3889.
Learn More about the Foundation
Charter Oak State College Foundation not only provides financial assistance to students through scholarships and grants, the Foundation seeks to provide opportunity also to continue learning and to celebrate success through a variety of programs, lectures, and special events.

Annual Report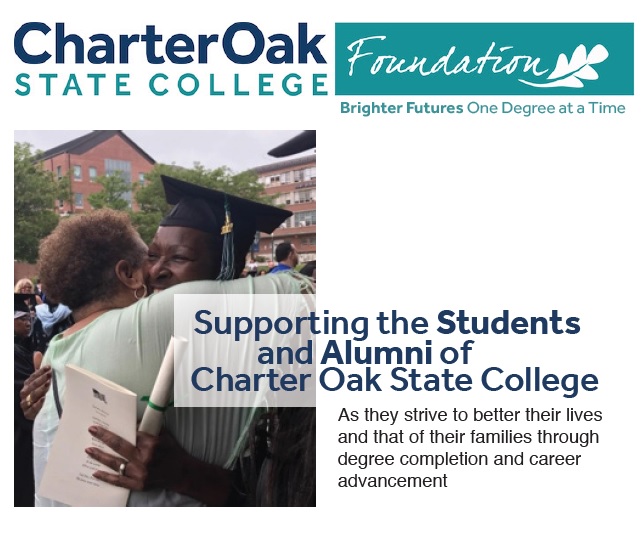 Audit Report
The audit report on the Charter Oak State College Foundation, Inc. for the fiscal year ended June 30, 2021.
*Please note that this report contains zero recommendations.
For more information about the Foundation or our initiatives, please feel free to contact Carol Hall via email at chall@charteroak.edu or by calling (860) 515-3889.