Our Cyber Security bachelor's degree program prepares individuals for a career as a security professional.
Our Cyber Security major's curriculum prepares students for success in IT Security, Cyber Security, Information Assurance, and Information Systems Security. It is designed for students with some background in computers.
Call us right now to talk about finishing college & starting your future: (860) 515-3701
Request Info
See our Cyber Security major's Requirements and Student Learning Outcomes in our Official Catalog.
Learn More About a Career in Cyber Security
The field of Cyber Security offers many opportunities for workforce employment and career advancement. A description of the various Cyber Security-related job roles, descriptions and competencies can help you select which courses are right for you and assist you in charting your career in this growing field.
The average annual wage for Cyber Security jobs is $79,370
Cyber Security ranks 17th out of 100 for top jobs in the U.S.
Cyber Security jobs are expected to grow 20%
Charter Oak State College offers college credit for CISSP certification
Questions? Email us at admissions@charteroak.edu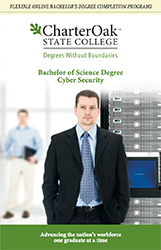 Download our Cyber Security Brochure