Following the June 2003 commencement ceremony where Mr. Hawes was the recipient of a Charter Oak Honorary Doctoral degree, he and his wife announced that they would present a gift to the COSC Foundation to establish a scholarship.
They subsequently made a generous donation and established the Beverly and Rodney Hawes, Jr. Scholarship to recognize a Charter Oak Student pursuing a business concentration that has demonstrated qualities of leadership and commitment to community and is considered to possess the potential to make positive contributions within a business environment.
A longtime advocate for the individual worker, Mr. Hawes was cited by the Harvard Business School Bulletin Online as "having established a remarkable record in business while maintaining a sterling reputation for character and integrity."
The average annual award is $800 each for two awards.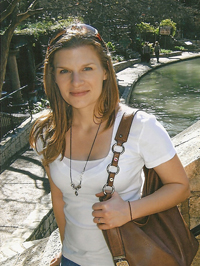 "Being a Connecticut native, it was extremely difficult to leave my home state due to the recession. I moved to Texas with my husband, who currently serves in our Army National Guard, in search of greater opportunities. It has certainly been a financial challenge to say the least but receiving the Hawes Scholarship took a lot of pressure off of us by covering the costs of an entire class and its books. Many doors have opened up to us here in Texas and my career in banking has blossomed since we've been here; but it was certainly not without the help of my COSC Business Administration education that I have been achieving during this time. Studying online has allowed me to continue my education while working and many of the courses I have taken so far have deeply enhanced my knowledge and ability to serve my clients more effectively. Earning this degree will help me to advance into a managerial position in the future"
Whenever someone asks me where I attend school, I am proud to say it is a Connecticut college! Thank you, Charter Oak! And thank you, Hawes Family for your generous help! - Amy Rodriguez, 2011 Hawes Scholarship Recipient
The 2012 Beverly & Rodnew Hawes, Jr. Scholarship was awarded to Robert Rosenberg and Jessica Simmons. This scholarship will be available again in the Fall of 2013.