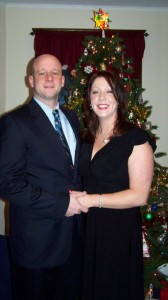 John and Elizabeth Blennerhassett are the parents of a Charter Oak State College graduate. Their daughter is committed to the philosophy and the mission of the College and has established this named scholarship in honor of her parents.
The Blennerhassetts were residents of Orange, Connecticut for many years, where they raised their four children. John passed away in 1988 and Elizabeth in 2003. One of the Blennerhassetts' most strongly held values was education, and they made many sacrifices so that their children could enjoy the benefits of a good education. John's own education was that of a skilled craftsman (a printer), but Elizabeth was denied the opportunity to finish high school. Collectively, their four children earned three bachelor's degrees, one technical college degree, two master's degrees, a Ph.D., and an honorary doctorate.
The Blennerhassetts had to choose between extending their own academic careers and allowing their children to go on to higher education. This scholarship is intended to save a few working parents today from having to make that difficult choice.
Scholarship Criteria
Scholarship Award Amount
The average annual award is $850 per student.
Application Process
Applications will be listed in the Acorn Student Portal when available, typically in the summer.