The D'Amato Graduate Studies Award recognizes a Connecticut Charter Oak State College graduate who is continuing his or her education. The criteria for the award include academic promise, motivation and contributions to community life.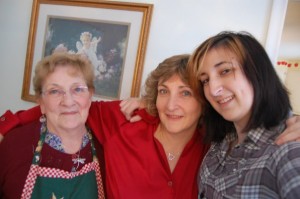 Sandra O'Connell (middle) with mother (left) and daughter, Chrissy (right) 2010 D'Amato Award WinnerSandy is enrolled in Tiffin University's (Ohio) online program for Criminal Justice/Forensic Psychology. She earned both her Associate and Bachelor degrees from Charter Oak. She graduated from Charter Oak in 2009 with a concentration in Criminal Justice. She is a member of Alpha Sigma Lambda National Honor Society.
Sandy received a black belt from Villari's Martial Arts in Newington and is a proud member of Wethersfield Junior Woman's Club. Eventually, she would like to obtain a position either working as a Probation Officer with the State of Connecticut or an Addictions Counselor in a methadone clinic.
Sandy is married to Richard Grogoza and her daughter, Christina Linardos is entering her third year of college.
Charter Oak State College Alumni interested in applying for the D'Amato Graduate Studies Award may contact Carol Hall at chall@charteroak.edu