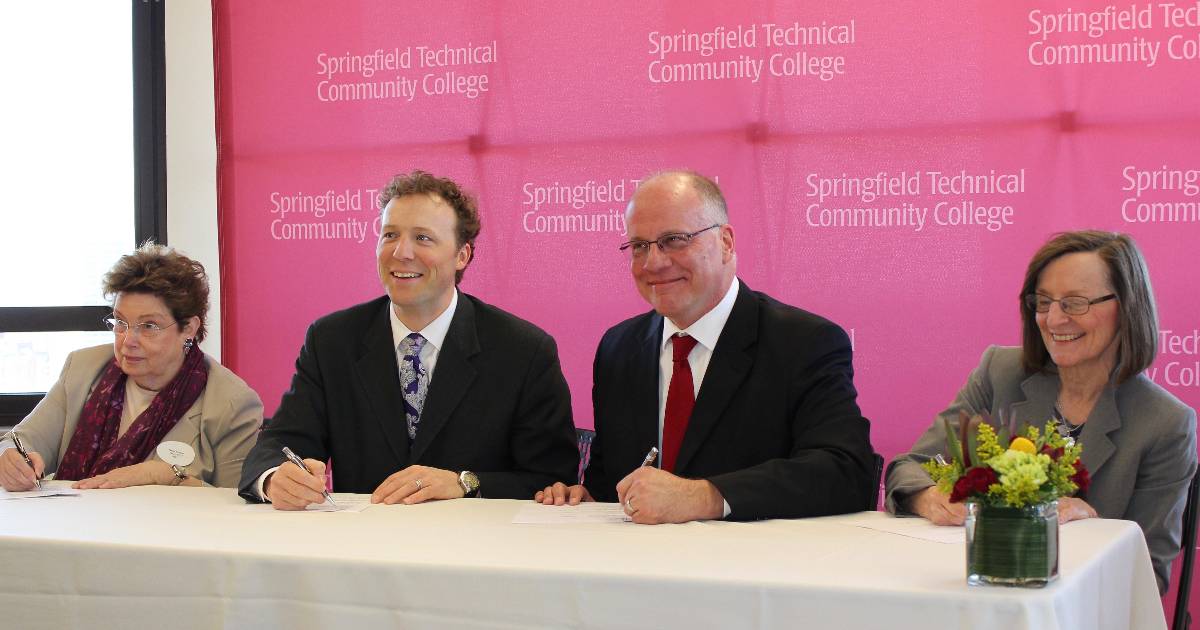 Supports seamless student transfer into Health Information Management program
A newly signed agreement will allow students to seamlessly transfer from Springfield Technical Community College into Charter Oak State College's Health Information Management online degree program, which prepares graduates to work in a rapidly growing field.
Professionals in health information management typically act as custodians of patient medical records, ensuring information is complete, accurate, protected and readily available to healthcare providers when needed.
College presidents Dr. John B. Cook of STCC and Ed Klonoski of Charter Oak signed an articulation agreement during a ceremony at STCC's Scibelli Hall on Thursday, March 30.
The agreement allows STCC graduates with an associate degree in Health Information Technology or in Medical Billing and Coding at STCC to transfer up to 87 credits to Charter Oak's Health Information Management baccalaureate program.
Klonoski said the partnership between STCC and Charter Oak addresses the needs of medical employers in New England.
"We are thrilled to be partnering with Springfield Technical Community College on such an important workforce-relevant program," Klonoski said. "Making credit transfer easy and seamless for students is what Charter Oak was created to do, and this transfer articulation agreement exemplifies our efforts to create opportunities for students to graduate with degrees that are aligned with workforce needs."
Both STCC and Charter Oak's degree programs are accredited by the Commission on Accreditation for Health Informatics and Information Management Education (CAHIIM).
Dr. Cook said, "A bachelor's pathway is a tremendous asset for this program. Truth be told, this partnership was put into motion only this fall with STCC receiving accreditation by CAHIIM. I cannot thank our respective faculty and administrators enough for their hard work, especially knowing that CAHIIM accreditation opens up so many healthcareer opportunities for students."
STCC's associate degree program prepares students to become Registered Health Information Technicians (RHIT). Graduates from Charter Oak's baccalaureate program can become certified as Registered Health Information Administrators (RHIA).
After the signing ceremony, workforce training organizations, representatives from Holyoke community College and Greenfield Community College, and area employers, including Baystate Health, heard about an apprenticeship program for health information management professionals. The program is supported by a $15 million U.S. Department of Labor grant.
Deborah K. Green, executive vice president and chief innovation and global services officer for the American Health Information Management Association (AHIMA), provided details about the program.