A Collaboration to Keep Connecticut Residents Cyber Safe
Connecticut's Oldest Bank, Liberty Bank, headquartered in Middletown, CT, and Charter Oak State College, are excited to announce the launch of a free, series of online video courses designed to help individuals protect themselves from cybercrime.
The 5-part series can be accessed online and is FREE for viewing. Videos are close captioned for the hearing impaired.
The videos feature former FBI special agent Jeff Lanza, who shares his 20 plus years of experience in protecting against cybercrime and identity theft. Lanza's real world information is delivered in a consumer friendly and easy to understand style. Topics include Prevent Identity Theft, Protect Your Digital World, Protect Your Documents, Protect Your Communications and Beware of Tricks. Each segment contains strategies that can be implemented immediately, plus ends with an optional quiz containing personal assessment questions to test viewers on their retention and understanding of the material. In less than an hour viewers can complete the series, take the quiz and receive a certificate of completion. Also provided are informative hand outs (pdf files) with helpful contact information for taking the steps to protect your identity and avoid cybercrime.
"We are excited to take our partnership with Charter Oak State College to the next level," stated Chandler J. Howard, Liberty Bank President and CEO. "After learning about this great educational opportunity to help people protect their hard-earned money and stay ahead of criminals, we immediately got involved. Keeping our customers and community safe from cybercrime continues to be a top priority for Liberty and this free, online course reinforces our commitment to do just that."
Ed Klonoski, President, Charter Oak State College said, "We're grateful to Liberty Bank and their ongoing support of the Charter Oak State College Foundation. With Liberty's support the College's Foundation is able to act on its mission which includes educating the public on relevant topics such as Cyber Security. Creating a product that can positively impact lives is a result of this great alliance."
The Charter Oak State College Foundation identifies supporting technology innovations as part of its mission. In conjunction with the Foundation's 40th Anniversary celebration, and with Cyber Security an area of significant interest to businesses and consumers alike, the Foundation's Rankin Chair Technology Fund was tapped, as well as support from Liberty Bank's Community Development Office, to create the free online course.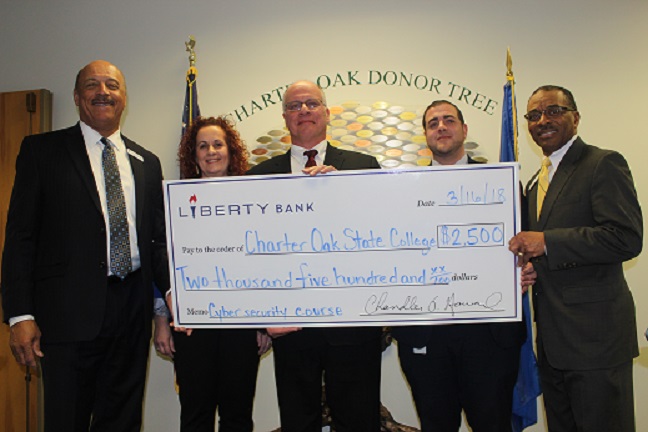 Photo Caption: Liberty Bank, Connecticut's oldest bank, recently provided a generous donation to the Charter Oak State College Foundation to help launch a free series of online video courses designed to assist in keeping the public safe from Cyber Crime. Pictured (l to r) Chandler J. Howard, Liberty Bank President and CEO; Marzena Bukowski, New Britain Branch Manager; Ed Klonoski, President, Charter Oak State College; Marc Nadeau, Liberty Bank First Vice President, Central North Regional Market Manager; and Glenn Davis, Liberty Bank Vice President, Community Development/CRA Officer.
To take the course visit www.CharterOak.edu/cybersafe.