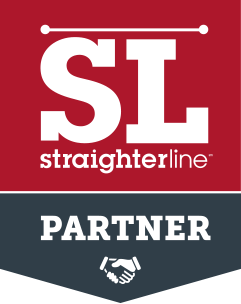 Charter Oak State College has partnered with StraighterLine to offer the StraighterLine Scholarship for new students who complete at least four StraighterLine courses and want to pursue a bachelor's degree at Charter Oak State College.
Scholarship Award
In addition to the savings from completing general education courses at StraighterLine, new Charter Oak State College students who transfer in four or more courses from StraighterLine will be eligible for 10% off tuition and fees until they complete their bachelor's degree. In addition to this scholarship, Federal Financial Aid is still available to those who qualify.
Eligibility Process
Partner Scholarship Interview
Complete a Partner Scholarship interview with a StraighterLine Advisor and a Charter Oak State College Admissions Counselor. Get started by calling 1-877-787-8375.
Purchase & Complete 4 Courses
Purchase and successfully complete 4 or more StraighterLine courses
Request Transcript
Request an official transcript by emailing your StraighterLine Advisor at scholarship@straighterline.com. That official transcript must show that 12 credits have been completed prior to paying your enrollment deposit and enrollment at Charter Oak State College. The scholarship is for new students only.