Charter Oak Alumni Insurance Program
The Charter Oak State College Alumni Association sponsors an Alumni Insurance Program as a service to alumni. The program offers a variety of attractively-priced insurance products, most of which are available to alumni, students, faculty, and staff, as well as their spouses, domestic partners, children, parents, and siblings:

For more information visit http://cosc.meyerandassoc.com/ or contact our program administrator (Meyer and Associates) at 800-635-7801.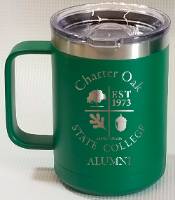 Official Charter Oak Alumni Store benefits the Masters' Scholarship Program
Show Your Charter Oak Pride and Support Scholarships! Browse the New COSC Online Store - at https://www.rhinogift.com/charter-oak-.htm -
A portion of the sales benefits the Alumni Association Graduate Degree Scholarship program. Help our graduates get to graduate school!

All items can be personalized.