Charter Oak Alumni Insurance Program
The Charter Oak State College Alumni Association sponsors an Alumni Insurance Program as a service to alumni. The program offers a variety of attractively-priced insurance products, most of which are available to alumni, students, faculty, and staff, as well as their spouses, domestic partners, children, parents, and siblings:

For more information visit http://cosc.meyerandassoc.com/ or contact our program administrator (Meyer and Associates) at 800-635-7801.

LegalShield & IDShield is now being offered as a benefit for Charter Oak State College Alumni!
Services are available for as low as $24.95 per month and includes coverage for spouse and children up to 26 years of age with the legal plan. Some of the areas of coverage include:
Estate

: Will Preparation, Living Wills, Healthcare & Financial Power of Attorney

Advice:

Advice and consultations on any personal legal matter

Financial

: Collections, Warranties, Guarantees, IRS Audit Assistance

Real Estate

: Landlord/Tenant Issues, Mortgage, Purchase, Refinance, Foreclosure

Auto

: Moving Traffic Violations, Car Accidents

Family Matters

: Uncontested: Divorce, Separation, Name Change and Adoption

25% Discount –

for contested divorces and other covered legal matters

Identity Theft Protection

: Credit Score Monthly Updates, Continuous Credit Monitoring, Identity Restoration

MemberPerks:

Discounts at over

400 partner companies

including: Cell Phones, Apparel, Electronics, Entertainment, Rental Cars, Hotels, and more.
To get more information or to enroll with the service, click on the link below or visit: https://legalshield.com/info/coscaa
Questions? Feel free to contact Kevin Palache, LegalShield Independent Associate, at 860.716.8208 or kpalache@legalshieldassociate.com.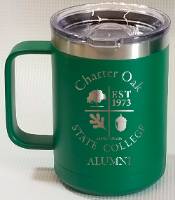 Official Charter Oak Alumni Store benefits the Masters' Scholarship Program
Show Your Charter Oak Pride and Support Scholarships! Browse the New COSC Online Store - at https://www.rhinogift.com/charter-oak-.htm -
A portion of the sales benefits the Alumni Association Graduate Degree Scholarship program. Help our graduates get to graduate school!

All items can be personalized.