Logo and Tagline
The College adopted a new logo and tagline in 2021. The challenge was to visualize the College in a more contemporary light, positioning it for a post pandemic world. The new logo better reflects the College as a 21st century institution focused on advancing careers, supporting employers and helping to build a better, stronger workforce. Our tagline, "A Higher Degree of Online Learning", is reflective of the College's decades long experience providing online degrees and certificates, and the satisfaction our students experience as a result of this expertise.
Click on the logo to download
The energetic logo contains a medium-dark shade of Cyan blue (PMS 294) coupled with a medium-dark shade of Cyan (PMS 320) better known as teal. The Effra font is known for its modern outlook, clean lines and open shapes. The full color logo should always be used against a white background whenever possible, and the colors of the logo should never change.
The strongest visualization of our brand is contained in this singular logo. The logo acts as a foundational unifying visual device for presenting a cohesive branding system. And while the College has a portfolio of programs, divisions and associations, the organization's strength lies in the unifying force of this one main image. The logo cannot be altered or replicated.
---
---
Click on the logo to download
The logo may also appear as black against a white background for the purpose of printing in one color.
Our Seal Explained
The new Official College Seal was adopted in October, 2022, and is based on the virtues of Access and Opportunity – two beliefs that have been held by the College since its inception in 1973. It replaces the former Seal which was based upon the Seal of the State of Connecticut and should no longer be used.
The Seal's primary purpose is to be the official mark of the College, for example on transcripts and/or during special ceremonies such as commencement and presidential inaugurations. It may be used with the College logo but should never be used in place of the logo.
To Request use of our Seal, please contact marketing@charteroak.edu.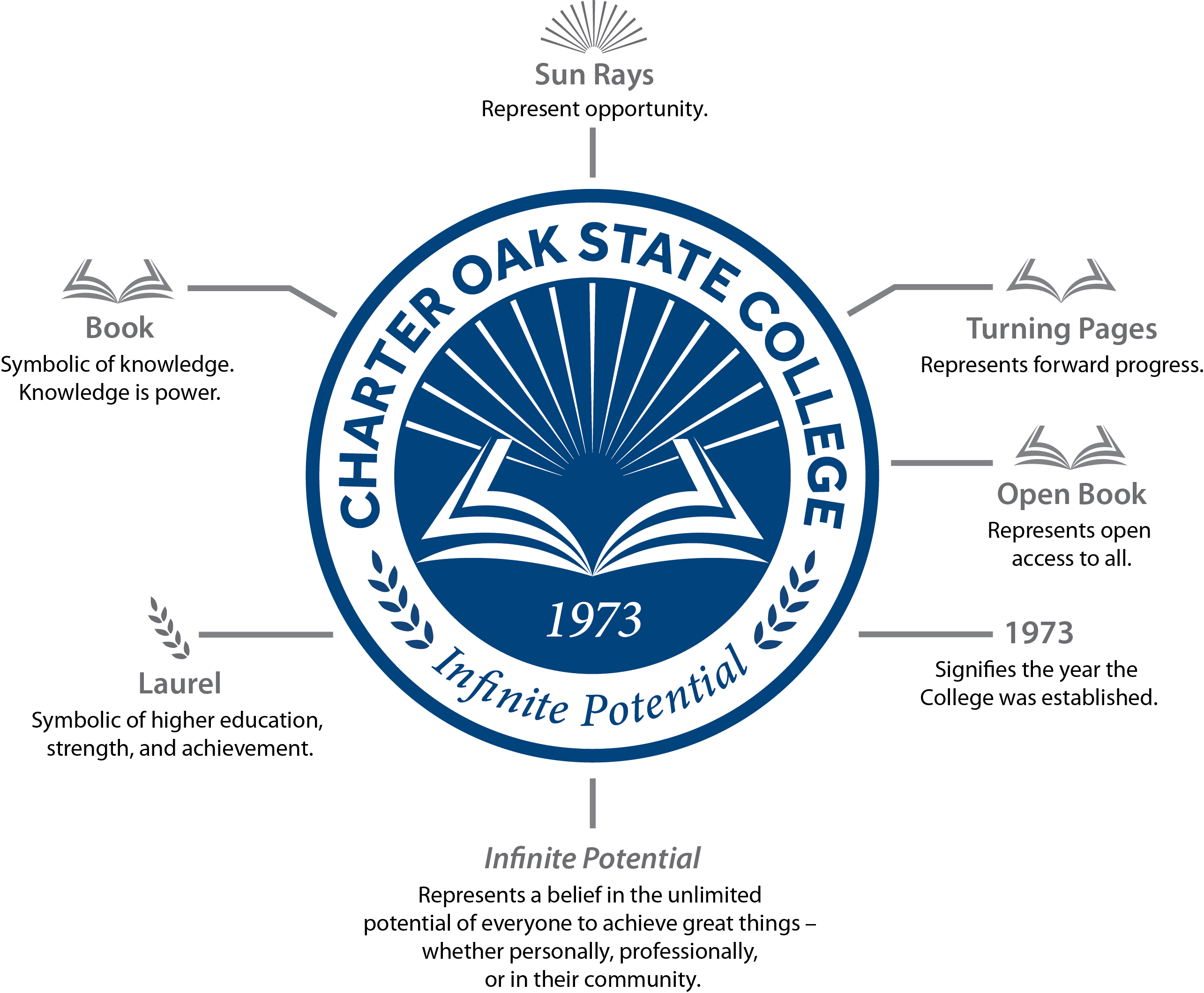 Referencing Charter Oak State College
On first reference the College should be referred to in its full name - Charter Oak State College. On second reference, the College may be referred to as "Charter Oak." The College should not be referred to as "COSC" to eliminate confusion with sister college CCSU and system office CSCU, as well as to be unexplainable to those unfamiliar with the College.
Voice and Tone
The voice and tone of the College should be clear, supportive and user friendly. Extra attention should be given to avoid academic nomenclature that is unfamiliar to the public at large or difficult to decipher. When possible, staff should seek to provide straightforward informative material that is easy to digest and act upon as necessary.
Tone may change dependent upon the platform that is being used and the context of the communication. For instance:
CharterOak.edu – informative, supportive, engaging
Social Media – more casual, fun, promotional
MyCharterOak – clear, concise, actionable
The audience we serve, primarily ages 25 – 49 years old, and communications should reflect that we are speaking to/with our peers, and not a younger traditional audience of high school prospects or first-time, full-time college students. Our tone should reflect an understanding that our students oftentimes are juggling work, family and academic pursuits simultaneously.
For all other questions, please contact marketing@charteroak.edu.