Community College of the Airforce (CCAF) - General Education Mobile (GEM) Program
Charter Oak State College welcomes CCAF men and women to complete general education courses applicable to their AAS degree.
Choose Charter Oak State College, Connecticut's public online college:
Our courses are online, accessible whenever you're available & wherever you are
Accelerated 8-week terms help you finish your courses sooner
New starting dates are always coming up: we have 6 terms per year
Voted a Top Military Friendly College for our work with military service members, spouses & veterans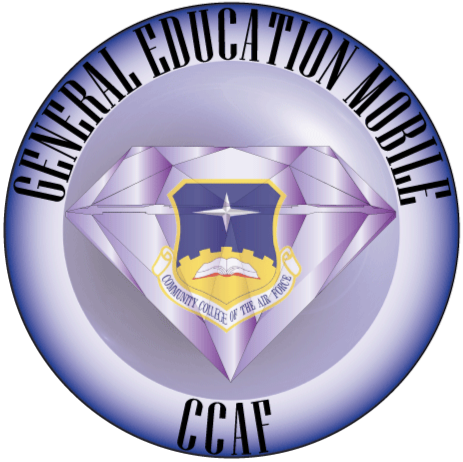 General Education Mobile (GEM) Program
To register for GEM courses, fill out our Registration Request form. We will then send you your username and password that will allow you to register for courses. The account request will be processed within 24 business hours. You can then log into our student portal and register for the course(s) you need.
Call Bob Frederick, Associate Director of Admissions, Military Transfer Coordinator right now and talk about taking courses to help complete your associate degree: (860) 515-3701
Request Information
Special Military Partnership Program Fees

| | |
| --- | --- |
| Application Fee | $50 |
| Tuition per Credit | $250 |
| Student Services Fee | $0 |
| Technology Fee | $0 |
Designed for active duty service members, guardsmen and military reservists who are currently drilling. Military students are exempt from the semester-based Student Services Fee and the Technology Fee and pay just the $250 per credit rate for courses. A minimum of 3 credit hours must be completed in a 12 month period to remain active.
General Education Courses Available
GEM Category
Course Number
Course Title
Credits
Oral Communication
COM 101
Speech Communication
3
Written Communication
ENG 101
English Composition 1
3
ENG 102
English Composition 2
3
Math
MAT 101
Contemporary Mathematics
3
MAT 103
College Algebra
3
MAT 105
Statistics
3
Humanities
FAR 110
Introduction to Film
3
IDS 120
The Global Village
3
MUS 120
Rock & Roll: History & Analysis
3
MUS 130
Survey of Jazz Styles
3
MUS 135
Music of the Beatles
3
ENG 202
Survey of Literature
3
Social Science
ECO 103
Macroeconomics
3
GEO 101
World Regional Geography
3
HIS 101
U.S. History 1: New World-Reconstruction
3
HIS 102
U.S. History 2: 1877-Present
3
POL 150
American Government
3
POL 250
Ethics in International Relations
3
HIS 250
History of Eastern Religions
3
PSY 101
Psychology
3
SOC 101
Sociology
3
SOC 210
Sociology of the Family
3