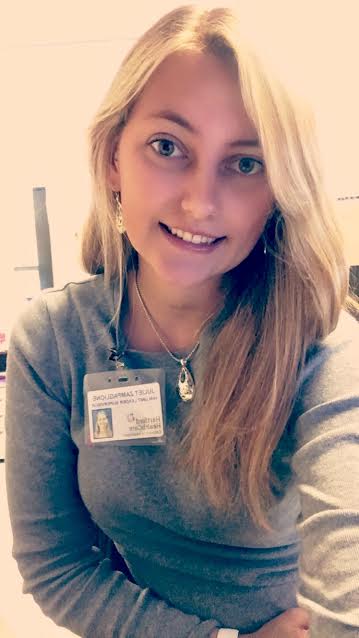 Juliet Zampaglione '16
Connections recently caught up with Juliet Zampaglione, Class of '16, Health Information Management. Juliet is employed in Connecticut by a leading health care organization.
When Charter Oak launched the Health Information Management Bachelor's degree program in 2012 the College had high hopes it would fill an industry need as well as student interest. To-date the program graduates have proven both to be true. One hundred and four students are currently enrolled in the program with several ready to sit for the RHIA exam shortly after graduating this May. The Program graduates have secured excellent professional positions with large, well respected health care organizations upon completing their degrees.
Juliet Zampaglione is one such recent graduate and her determined journey mirrors many Charter Oak alumni. After high school Juliet jumped into college at the University of Saint Joseph in West Hartford, CT to study nursing. After one semester she transferred to Northwestern Connecticut Community College because of location. After two years she switched majors and discovered that she preferred the administrative side of health care over the clinical side. At the same time she enrolled in a non-degree program to become a pharmacy technician and sat for the national pharmacy technician boards and became a nationally certified pharmacy technician.
She continued her degree program at NCCC and graduated with an Associate of Science degree in Health Information Management. Not to be complacent (!) she began classes at Charter Oak State College immediately, graduating in August 2016 with her Bachelor of Science degree in Health Information Management. Following graduation Juliet sat for the Registered Health Information Associate Exam (RHIA) administered by the American Health Information Management Association. She now holds those valuable credentials allowing her to pursue her administrative career in the growing health information field.
Many factors led to her interest and success in the field beginning with a high school job at Rite-Aid. Later on, while taking her pharmacy technician training she was able to get on-the-job experience back at Rite-Aid where she saw the value of patient information first hand.
Similarly, connections she made while completing the HIM program practicum, led directly to a reference for an open position. "The one week practicum was key to obtaining my current job. While I was at my practicum site, I was given the opportunity to see all parts of the HIM Department and the Director referred me to a vacant position at the end of the practicum. I gladly applied for the position, interviewed with two of the senior HIM managers, and secured the position about a month prior to actually graduating!"
Juliet says she thoroughly enjoyed her time at Charter Oak and that it has significantly changed her life. Completing her degree offered her the opportunity to land a job in her field that is very satisfying. She credits professors and advisors, Frank Valier and Cindy Edgerton, with their availability and guidance, adding they were just as invested in her education as she was. She says "I am continuously promoting Charter Oak to my coworkers and employees because of the spectacular education that I received".
Not one to sit still, Juliet is debating whether to pursue a Master's degree next. For now, she is enjoying her new job and spending time with family and friends. We wish her well in all her endeavors!