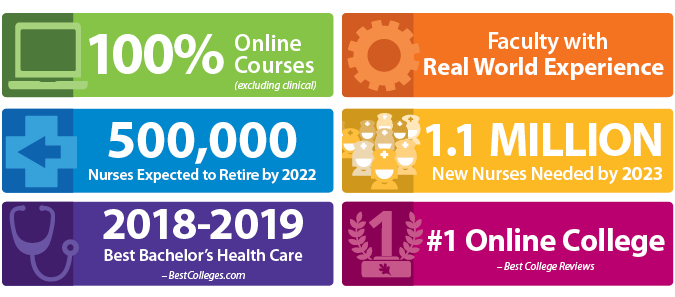 Boost your Career with a Bachelor of Science in Nursing
At Charter Oak, we're educating the nurse of the future with our online RN to BSN program! If you have an active RN license and are seeking a trusted online educational partner to earn your BSN, our program has been created with you in mind.
RN to BSN Open House | Tuesday, March 26 | 5:30-7pm
Registration begins at 5pm. Explore the benefits of earning an online Nursing bachelor's degree with our dedicated RN to BSN team!
Request Information About Our RN to BSN Degree
Call us right now about finishing college & starting your future: (860) 515-3701.
Are you seeking a transformative experience? We're looking for you to join us!
Program begins Fall 2019. We are accepting applications!
Major Requirements

NUR 301: Baccalaureate Nursing Role
3 credits
NUR 310: HC Policy, Economics, Regulation, & Ethics
4 credits
NUR 315: Nursing Research & Expanded EBP
3 credits
NUR 320: Population Health
5 credits
NUR 400: CQI, Safety, & IP Collaboration
4 credits
NUR 410: Systems Leadership/Continuum of Care
4 credits
NUR 495: Baccalaureate Nursing Capstone
3 credits

Total: 26 credits

This major requires a minimum of 120 credits. Only NUR 301 and NUR 315 are transferable. All major requirements must be completed with a grade of 'C' or higher.

Student Learning Outcomes

demonstrate purposeful, informed, outcome-oriented thinking and action.
use critical thinking skills to make sound clinical judgments, identify and address individual, population, and organizational challenges.
integrate leadership skills of systems thinking, communication and change facilitation to meet patient care and organizational needs across the continuum of care.
recognize the impact of economic, political, social, ethical and demographic forces affecting the delivery of regional, national and global health care.
provide care that is cognizant of and respectful of the patients' cultural beliefs and practices.
interact using effective communication skills with patients, families and interprofessional team members fostering mutual respect and shared decision making to enhance patient satisfaction and health outcomes.
identify and integrate reliable evidence to provide the highest level of quality nursing care.
participate in patient safety and quality initiatives within the context of an inter-professional team.
utilize and manage information technology to provide safe, effective patient care and incorporate current knowledge in health care delivery.
incorporate professional nursing standards and accountability into practice.
Admissions Requirements
Admission to the RN to BSN program is selective. Candidates to the program must have:
A minimum calculated Grade Point Average (GPA) of 2.3, based on the Charter Oak State College Nursing Program of Study (Advising Worksheet), to be accepted into the Nursing Program.
Graduation from a nationally accredited (ACEN or CCNE) Associate degree in Nursing or Diploma Nursing Program
A current, unencumbered RN license
*Note: Applicants who have not yet received their RN license, but meet other admissions requirements, will be permitted to enroll in the college for one semester. Proof of RN licensure must be provided for continued enrollment.