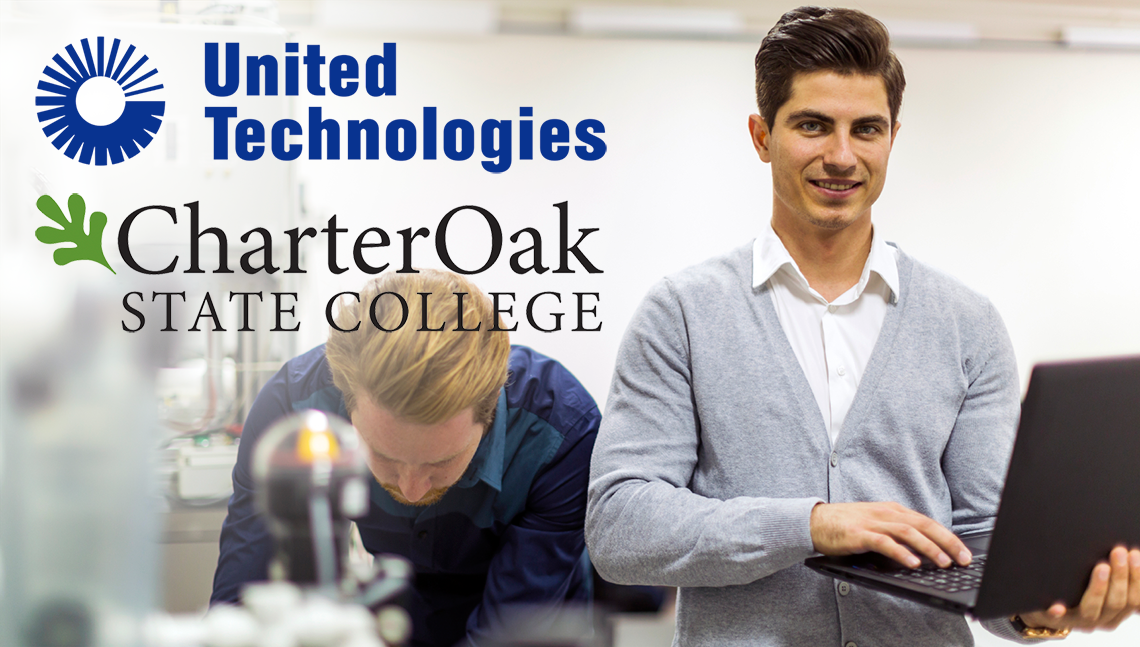 Welcome, UTC Employee!
Employees of UTC are eligible for the Employee Scholar Program. UTC pays for tuition, academic fees and books at approved educational institutions like Charter Oak State College.
Why Charter Oak State College?
With our online degree programs, there is no need to travel to a campus after work or on the weekends. We're accessible to you wherever, whenever. Plus, earn credit through alternate sources such as testing and exams, military training, lifelong learning through our portfolio program, credit evaluated by ACE, National CCRS, or the Connecticut Credit Assessment Program (CCAP), credential evaluation, and by transferring credit earned from other regionally accredited colleges and universities.
Charter Oak State College specializes in meeting the needs of working adults who want to complete their degree with convenient, flexible and affordable degree programs.
Request Information
Career-Oriented Degree Programs and Certificates
See our Programs of Study to learn more about what Charter Oak State College has to offer working adults. We have over 16,000 satisfied alumni since we were founded 1973.
Questions about the UTC Employee Scholar Program?
U.S. & Puerto Rico employees, please direct questions to:
GP UTC L&D Help Desk:
Email: utclearning@gpstrategies.com
Phone: 866-828-7420
Fax: 248-526-5499
Hours of Operation: 7:30 a.m. to 5:00 p.m. (ET)
Mail:
GP UTC L&D
P.O. Box 1019
Troy, MI 48099
Apply Now
Charter Oak Awards Credit for Training Programs
Charter Oak State College awards credit for evaluated training programs. For example, if you completed Sikorsky Helicopter Mechanic School's Helicopter Mechanics Certification Program between May 1996 and July 2009, you've already earned 52 college credits!
Thanks for your support, United Technologies!
United Technologies and its employees have donated over $20,000 to support the Charter Oak State College Foundation via donations & corporate matching! The Charter Oak State College Foundation offers grants and scholarships to eligible students. Thank you, UTC!